We are delighted to announce a new program,  Beginnings at CaringKind, held in the Harry and Jeanette Weinberg Early Stage Center, which was launched in November 2019.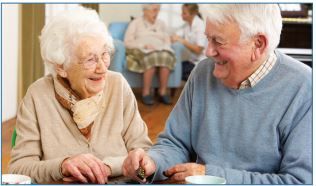 The program provides a supportive environment and specialized socialization programs for older adults with early or mid-stage Alzheimer's disease, dementia, and other neurocognitive disorders.
Each meeting offers social, intellectual, and physical engagement in an uplifting and safe environment. Our goal is for each of our members to experience authentic joy and connection with others whenever they join us.
The program is especially beneficial for people who prefer to remain in their homes and age in place, but still desire to be part of an active and welcoming community. Beginnings also provides respite and support to family caregivers, who can recharge with peace of mind while their friend or relative is participating in the program.
There are qualifying criteria in order to join the program. Each individual must be:
Living with early or mid-stage Alzheimer's disease, dementia, or a related neurocognitive disorder.
Independent in activities of daily living.
60 years of age or older; younger adults considered on a case-by-case basis.
Our trained team meets with potential members and their families for an assessment to ensure that the program will be the right fit.
Once an individual is enrolled, they will experience:
Enhanced Well-Being
Social engagement can improve one's cognitive functioning while reducing symptoms of clinical depression and other mental health challenges. More than an affirming social experience, Beginnings
includes group meditation, yoga, and healthful food for members.
Creative Programming
Our members determine what we do together. Guest lecturers from leading cultural organizations frequently join us. Past guests have included a flutist from Lincoln Center, a docent of Friends of the High Line, and a salsa dance teacher.
Welcoming Community
Our diverse members include retired professionals, artists, homemakers, and teachers. We all share a lifelong passion for learning and a commitment to accepting people as they are. Together, we rise above the challenges of neurocognitive disorders and continue to enjoy everything life has to offer.
Intimate Gathering
Because we limit our membership, each person is able to connect with others without getting lost in the crowd. Our small size also ensures that each of our members receives individualized attention.
The Beginnings program meets at CaringKind each week on Monday, Tuesday, and Thursday, from 11 am – 2 pm, with a fee of $85/session.
For more information, or to register for Beginnings at CaringKind, please contact our 24-hour Helpline at 646-744-2900.