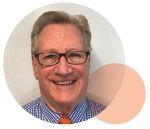 Jed A. Levine,
President Emeritus,
Director of External Relations
---
CaringKind Cares During COVID-19
By now, you know I've transitioned from President and CEO to a new role, President Emeritus and Director of External Relations. I am thrilled to be working again with my friend and colleague Eleonora Tornatore. I was impressed with Eleonora when I first met her as an intern over 20 years ago and then as a staff member working on a grant to change the culture of dementia care in nursing homes. I have watched and admired her work developing excellent dementia programming in assisted living in Connecticut and then her growth to a savvy senior executive at the Connecticut Chapter of the Alzheimer's Association. Her passion, commitment, and belief in the mission has never wavered, and we are fortunate to have her as our new CEO.
When I planned this transition over a year ago, I could not have imagined how much our world would change. The new coronavirus has forced us to pivot to a totally virtual platform for all our programs. Our amazing staff is working from home after we closed the office on March 17th. Our clients, persons with dementia and their families, and professional caregivers are at greatest risk for serious illness and death if they become infected. Calls to our Helpline and Social Work staff are up. Calls are longer, more complicated, and the stress of dementia caregiving, (never easy) has been compounded by the lockdown and the lack of usual services and supports.
A recent study was done by US Against Alzheimer's and the AList (which we were proud to participate in — many of our clients were surveyed and responded). It confirms what we're hearing in the support groups, on the Helpline, and in our education and training programs. Here are the summary results from the fifth UsAgainstAlzheimer's A-LIST® survey:
This new survey, taken July 16-21, shows the continued effects of the COVID-19 pandemic on the Alzheimer's community, including signs of faster declines in memory and behavior among people living with Alzheimer's or another dementia. Two-thirds (67%) of the 167 caregivers in the survey said they observed a decline in their loved ones' memory or behaviors since the coronavirus-related restrictions, closures, and isolation have been in place. In addition, 40% of the 40 patient respondents said their cognition had declined somewhat and another 2% reported significant declines since restrictions began.
These survey results confirm why our free programs of care and support are so important and are needed now more than ever. Our staff is truly on the frontlines of this pandemic, providing vitally important contact, connection, information, and hope. One of the major issues for dementia caregivers is social isolation; friends and family often stay away. They are uncomfortable with the person who has cognitive challenges. It is too painful to see a beloved uncle or grandfather, who was the patriarch of the family, have trouble with simple tasks, get confused, agitated, or fearful. The isolation is made that much worse by COVID-19 and the legitimate fear of getting infected. Our services provide community, connection, and the welcome relief of being understood. For families who are caregiving 24/7, there is no relief from the task. There is help through CaringKind.
Our staff has put together helpful activities and suggestions about what to do, tips on stress reduction, and where to get more information or help. Take a look at our COVID-19 resource page on our website: caringkindnyc.org/covid19-resources
Let me remind you that now, as never before, is the time to practice self-care. The practices and approaches we've promoted for decades have never been so important or needed.
Find time for yourself, if only a moment, to take a break.
Breathe – if you feel tension rising, take a moment for a few deep breaths and then go back to the task at hand.
Move! Exercise, even walking in the apartment or hallway, can be healthful and relaxing. Even better, do it safely outdoors. Wear your mask and stay socially distanced.
Get help! Dementia caregiving can never be done alone, especially now during COVID-19. Call the CaringKind Helpline 646-744-2900, join a support group, attend an educational webinar.
Now is not the time for self-denial. If a piece of chocolate or a glass of wine at the end of the day helps you relax or is pleasurable, don't hold back.
Connect with others – use FaceTime, Zoom and other platforms to connect with family, friends, faith communities, and CaringKind!
Remind yourself you're doing the best you can.
Self-Care is not SELFISH! It is needed so you can continue to care for your person with memory loss.
We are here to help, but we, too must ask for your help. As much as the community relies on us, we rely on the community. Please join us as we launch our virtual Walk on October 11th with a great program, emcee Bill Ritter of WABC-TV will be back, as will David Hyde Pierce, (with Broadway friends to entertain our virtual walkers! ) and more.
CaringKind is 95% privately supported. If you can, please support us, create a walk team, support a walker (you can always support me!), and help us keep our services free of charge for all who need us.