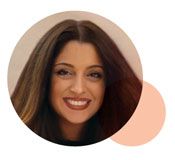 Eleonora Tornatore-Mikesh
President & CEO
---
Dear Reader,
Greetings from NYC, and thanks for the warm welcome back! As I look out of my new office window I see a different NYC today. I see a city that is quiet and sleepy;  ironic for a place that is known as "the city that never sleeps." COVID-19 has changed our city and our world, but here at CaringKind, even though so much has changed, our mission remains the same.  We still need to support people with this disease, their families, and their caregivers, and help them cope through each day.
Indeed, the need is greater than ever. Add the new coronavirus to this already stressful situation and what do you see? Our helpline calls are longer and more complex.  Family caregivers are trapped at home, with no break from caregiving. Support Groups are providing desperately needed comfort and connection. Education meetings are reaching more individuals across the city and beyond.
Introducing
Eleonora C. Tornatore-Mikesh, CaringKind's new President and Chief Executive OfficerReturning to CaringKind is like coming home for Mrs. Tornatore-Mikesh. After graduating from college, she trained as a specialist in aging and dementia at CaringKind, working as a research associate for two years on a New York State Department of Health grant.

Mrs. Tornatore-Mikesh credits her knowledge and expertise to the training she received at CaringKind, "Without the foundation of learning I gained almost 25 years ago at CaringKind, I would not have become an expert in aging and Alzheimer's disease in long-term care."

Mrs. Tornatore-Mikesh then moved to Connecticut and spent almost 14 years at a premier assisted living community as the executive director. More recently, Mrs. Tornatore-Mikesh was the CEO of the Alzheimer's Association's Connecticut Chapter. Eleonora's experience, passion, and drive will help to ensure that all dementia caregivers in New York City get the support they need, especially during the COVID-19 pandemic and in the future.
We are proud of the diversity work that we have done for over 30 years in the Latino, African American, and Chinese communities and today these populations are struggling, as they are disproportionately affected by the virus.  We are finding new ways to reach out virtually until we can resume face-to-face programming in the office and in the community.  The social work and education department is one that has shaped my career and provided a pathway to hope for so many families. The MedicAlert® NYC Wanderer's Safety Program continues to enroll people in the program and respond to cases of missing and found individuals.
Looking ahead, what do I see? I see that the way we deliver programs today may seem different as we pivot to virtual and online platforms, but our relationship with families remains as strong as ever.  Our programs and events will expand to new areas of research, brain health, and caregiver wellness, and be ever more inclusive. We have expanded our reach and we are creating more opportunities to strengthen our position as leaders in the dementia care world.
I am working hard with our amazing staff and volunteers to build new sources of support. I am thrilled to welcome the newest members of our Board of Directors, who bring new energy and renewed commitment to our cause. We cannot do this alone. Please consider supporting our 2020 Forget-Me-Not Gala, which will honor our own Jed Levine for his thirty plus years of leadership and will celebrate our connect2culture program. Or create a walk team for our first virtual CaringKind Walk on October 11. Or join your fellow caregivers and become a member of our exclusive Caregiver Champions campaign! (See page 9. )
There are many ways to support CaringKind and we are so grateful to all our friends, donors, and supporters.
I look forward to working with all of you and serving this community.
Sincerely,