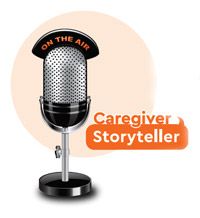 You helped us innovate. And now we've been honored for it!
Our podcast, Caregiver/Storyteller, has just won a national award!
The storytelling podcast, created and hosted by our own Chris Doucette,
was just named by the Family Caregiver Alliance as the winner of their 2020 Innovations in Alzheimer's Caregiving Award in the Creative Expression category. Not only does the award raise awareness of CaringKind, it also comes with a $20,000 prize.
Fifty caregiving programs from around the country competed, and in February the CaringKind podcast was selected as the winner. We are thrilled to be recognized for the podcast and we are grateful to the Family Caregiver Alliance and the award program funders: The Rosalinde and Arthur Gilbert Foundation and the Helen Daniels Bader Fund, a Bader Philanthropy.
You can find the Caregiver/Storyteller podcast on iTunes and other podcast apps.
Or, you can listen right from our website at: caringkindnyc.org/podcast