By Stephanie Aragon
Vice President of Caregiving Services
---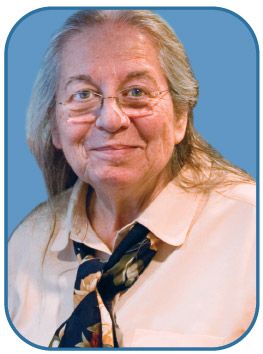 Elinor Gipfel's beautiful smile and great laugh lit up the Helpline office whenever she volunteered. Elinor was a loyal supporter of CaringKind and enjoyed giving back to the community. A retired public school teacher, she was a proud and dignified woman and fiercely independent. Even when she had to use a cane when she traveled from Brooklyn to our Manhattan office, Elinor was here every Friday at 7:45 am, with a coffee, croissant, and newspaper in hand. A lifelong musician, she would come to the office with her flute, practicing after her helpline shift. Elinor had a passion for learning. She spoke fluent German and French and loved to listen to staff speak in different languages.
Always interested in the latest news about Alzheimer's disease research, Elinor left newspaper clippings and magazine articles on my desk to share with staff. Elinor went above and beyond with callers. Not only would she educate them about the stages of dementia, she would also teach them about the derivation of the word dementia. In a final act of generosity and caring, Elinor made a generous bequest from her estate, ensuring that caregivers can find information and support in the future. She will be dearly missed.
Extra online content
A caregiver for her mother, I recall Elinor saying that listening to Jed Levine speak at an Understanding Dementia seminar was life-changing for her. She heard him say that she can turn to CarignKind for support – and she did. She attended all of our seminars and was a member of a daughter's support group before joining our Helpline team in the early 1990s. During Walk season, Elinor wrote a letter to her family and friends reminding them of CaringKind's work with dementia caregivers and asked for donations. My favorite time of the year with Elinor was the holiday season. Elinor had a lovely voice and would sing Christmas carols and Yiddish songs – and would inspire staff to sing along with her.
Elinor epitomized what it means to be a CaringKind volunteer. I had the privilege of working with Elinor since 2008. Her compassion, her patience and her wisdom helped countless caregivers throughout her tenure as a helpline volunteer.  Elinor made CaringKind a special place to work – she was a part of our family and we are grateful to have known her.
A Note from Jed A. Levine, President Emeritus
Elinor was a consistent and loving presence at CaringKind. For close to 30 years - first as a client, and then a reassuring Helpline volunteer - she did so much to empathically listen, provide comfort, and offer practical advice. I will miss our regular exchanges, our shared love of music, and her bemused recollection of my once red hair! We mourn her loss and are so grateful for all she gave to our clients.