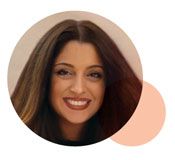 Eleonora Tornatore-Mikesh
President & CEO
---
As the world regains a sense of normalcy, we realize that the virtual part of our work – once thought to be a temporary solution – has become an increasingly important part of our post-pandemic life. We look forward to resuming in-person support while we expand our efforts to help even more people, virtually.
The pandemic has forced us to look at our work through a new lens, and we now see a need for not only virtual flexibility, but also innovation. As such, we are excited to announce additional programs, services, and projects that will help more families and people with dementia in New York City and beyond. Take a look at the articles in this newsletter as good examples of our new efforts!
While Alzheimer's and dementia care can be challenging and exhausting, there is hope that there will soon be effective treatments. Until then, expert caregiving is the best medicine. Check back with us over the summer as we announce a menu of new, evidence-based interventions designed to improve the quality of life for people with dementia and caregivers!
Our innovation is only possible with your support. Please help us continue to innovate by walking with us in Central Park on October 10th! Thank you!