Caregiver D'Ambrose Boyd and his mother, Wilma D'Ambrose noticed personality changes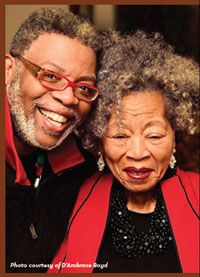 "My mom was changing in ways I didn't know how to handle and that frustrated me. She was getting aggressive, calling me repeatedly at work, and calling the police. I had my cousin watching her while I was at work.
One day, she was out in the front yard and began yelling for the police. An ambulance was called and once she got in, she calmed down. But that's the incident when I knew we needed professional help.
A valuable connection
Keith Amparado – a longtime volunteer at CaringKind – told me about CaringKind. I signed up for the legal/financial training and estate planning classes. Talking with social worker Nansi Rivas about mom was a really big deal for me. I started crying! I didn't realize how much I needed that support. I felt like I was finally talking to someone who really understood our situation.
A social worker to the rescue
Ms. Rivas helped me feel like it was OK to feel what I was feeling. And she helped me identify an agency that could provide the home health aides we needed when I wasn't at home. And - this is important – she helped me navigate the process of hiring and paying for a home health aide in a way that was sustainable for us. The respite grants we qualified for were transformational – they gave us the financial breathing room we needed to plan for the future.
Even the education classes were a kind of emotional support. While the main objective of the classes was information, the questions from the other participants provided insight into the lives of other families. It made me feel less alone and that we're all just doing our best to provide for our loved ones.
In her career (and life in general), mom was a mover and shaker. She worked for the City of New York as Director of the Crime Advocates Program. To this day, a family she helped visits her each year to express their gratitude. I am so proud of her.
A family in better shape
I understand their gratitude because that's what I feel for CaringKind. Because of the support we've gotten, our family is in better shape. My mom knows that she is being taken care of and that she's loved."