A Common Beginning
"Just over 10 years ago, I noticed that my husband, Ken, was often repeating himself. At the time, I figured it was just a sign of old age. I knew nothing about Alzheimer's or dementia. When he made a trip to Hong Kong to visit his family, I received a phone call from them. They were concerned that his repetition was a sign of a deeper problem. When he returned, I scheduled an appointment for him. And that's when he was diagnosed with Alzheimer's.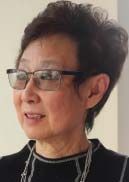 Christina Yau,
caregiver for her husband, Dr. Ken Yau,
who has Alzheimer's.
'I Must Always Be Vigilant.'
My husband was a professor – he loved to debate and argue. He was also very active – he never rested. That was his nature. The progression of Alzheimer's has limited his ability to communicate and function independently, but his drive and vocalization remain as strong as ever. As a result, I must always be vigilant. He is always moving and vocalizing – at all hours of the day and night. He can sing for 1.5 hours straight! I get no continuous sleep. I am always checking on him. I am exhausted!
How a Flyer Changed Everything
I tried seeking support through other programs, but I didn't find them very helpful. I felt very depressed and frustrated. Then, one day, I saw a flyer in Chinese promoting a support group for Alzheimer's caregivers. I joined immediately and the CaringKind group facilitated by Ms. Weijing Shi gave me exactly what I needed! I attend every month – I never miss a meeting. The other participants are in the same boat and they understand what I'm going through.
I learn from everyone, and sometimes Weijing invites speakers who have expertise that I find really helpful. It is through this group that I learned about CaringKind's Family Caregiving training. I took that training, and it was very helpful. Learning not to argue with Ken was a great lesson!
Life is Better
I still get frustrated sometimes, but life is much better. He's sick and it's not his fault. Eventually, he'll need to move into a nursing home. I've cared for him for 10 years and, as a result, I've delayed some of my own healthcare needs to do so. The importance of caring for myself is also something that CaringKind has helped me understand.
CaringKind gives great support to caregivers like me, and I am so very grateful!"