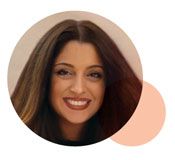 Eleonora Tornatore-Mikesh
President & CEO
Dear Friends,
I hope you and your family are well and safe during this difficult time. As I close my first year as CEO of CaringKind, I am deeply grateful for your support. And as I look back with pride, I ask you to continue or even expand your generosity as we prepare for new challenges.
---
You have allowed us to survive and even grow after our office transitioned to virtual service:
Our MedicAlert® NYC Wanderer's Safety Program enrolled more families than ever.
The network of Support Groups grew to almost 90, via telephone conferencing and Zoom.
Our Helpline staff fielded more than 7,300.
Our licensed Social Workers provided more than 600 support sessions with families.
We trained over 370 Home-Care Workers in dementia care in English, Spanish and Chinese.
We reached more than 8,300 Caregivers in African American, Chinese, Latino, and Orthodox Jewish communities.
Our Connect2Culture programs were active with our arts and cultural partners.
Here's a note from one of the families we helped this year with your support:
Dear Stephanie,
I truly appreciated connecting with you. Thank you to YOU and the entire team for your support of me as a caregiver. It started with my Beloved Dad and now my Dear Mother. The support is a lifeline. I hope you know how much the work you do saves lives. I could not do this by myself... I am grateful and blessed...
Warmly, Josette
Our staff and board draw energy from many such comments as we continue to face considerable challenges. Covid-19 is an ongoing problem; it has made dementia caregiving so much more difficult. Dementia caregivers are exhausted from the constant stress and worry, isolation, and fear. They tell us that their care recipients are declining quickly from the lack of stimulation and loss of their usual routines. Those in nursing homes are now, finally, able to receive visitors.
But the collateral damage of the pandemic lingers, and more than ever we ask for your help to meet growing demands and to keep our programs free of charge. We hope that you will consider making a 100% tax-deductible year-end donation.
We recognize that we are living in challenging times. Please know that a gift of any amount would be greatly appreciated and have a healing impact on the caregiver families we serve, however gifts of $250, $500 or $1,000 are especially needed. CaringKind would not be here without you!
On behalf of CaringKind, I wish you a healthy, peaceful, and productive 2022 and thank you for supporting our work today and into the future.
Sincerely,
Eleonora Tornatore-Mikesh
President and CEO
If you need to reach us for any reason, including making a stock donation, please call 646-744-2900.