A Few Odd Stories
"My mom was living alone and she started telling us stories like how she got lost in the neighborhood and had to call a cab to find her way back home. My sisters and I thought that these stories were a littleA odd, but not alarming. Then she started getting a little paranoid. She said that a thief was coming into the apartment and taking things, like food and jewelry. She was so sincere in her anxiety that we actually considered installing cameras to see if someone actually was entering her apartment! We didn't realize that she was showing common signs of Alzheimer's or dementia.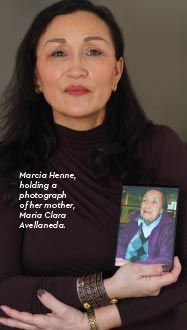 Something Had to be Done
Eventually, her behavior became too much of a concern to ignore –
meals left out for days, repetitive questions, and more. She insisted that she was fine, but we knew something was wrong. And a trip to the doctor confirmed it. At the same time, I felt overwhelmed by my anxiety about her well-being, and stressed by the increasing conflict between us sisters about her care.
I Reached Out for Support
One day, I just started researching support for Alzheimer's caregivers and I learned about CaringKind's support groups. That group became a gateway to CaringKind services in general and I jumped in with both feet. My mother was big on volunteering, so that's what I did – I volunteered for everything I could. When my mom started wandering, I knew to enroll her in the Wanderer's Safety Program. These programs helped my family, and I couldn't be more grateful.
An End, But Also a Beginning
My mother passed away from Alzheimer's disease in 2010. But instead of ending my relationship with CaringKind, I found my calling. Fast forward 12 years, and I am now serving as Program Manager of the MAP Program connecting experienced caregivers with people newly diagnosed with dementia and their care partners. (Read about MAP on Page 2.)
It's incredibly meaningful for me to be able to leverage my personal caregiving experience in service of this vital program to help improve the quality of life for people with dementia and their care partners. Stigma is still an issue for those affected by Alzheimer's. To help reduce stigma so that there's one less hurdle to a life of dignity for people in this community is an honor for me and a tribute to my mom.