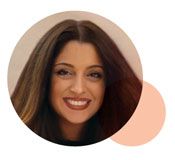 Eleonora Tornatore-Mikesh
President & CEO
Sharing Gratitude and Purpose
Each day I am blessed with an email, a handwritten note, or a phone call from family caregivers and people living with dementia sharing how we have been a key part of their journey after cognitive decline symptoms or a formal diagnosis of Alzheimer's Disease or dementia. At Caringkind we strive to support family caregivers and persons with the disease through our boutique programming.
One of the highlights of my day is receiving confirmation that our mission and daily work provides concrete relief and comfort to families. I thought I would share a special note that illustrates the work of CaringKind and the collective relationships families have with multiple staff at CaringKind as they travel many years of uncertainty and hard prognosis. Thank you to this caregiver for allowing me to share what our work meant to her. Her words fuel our mission to grow and provide more services to this community. She is thanking us, but really, we are grateful to her for sharing her story. Our caregivers are strong, relentless advocates for people living with this disease. We stand by you as relentless advocates, raising funds and awareness until one day we have a cure or treatment.
"My heart is heavy upon sharing the news with you that my husband passed away on February 1, 2022. CaringKind has been present in our lives since my husband was first diagnosed with 'dementia associated with Alzheimer's type disease' in the fall of 2013. The first call I made was to the hotline and thus began our journey with the support of CaringKind. I attended each of the education workshops offered, some more than once; I joined a CaringKind support group led by Dasha Kipper, who knows my story well; and I attended the CaringKind lectures and panel discussions. The panel discussion with Alex Kates Shulman about her book, "To Love What Is" and then reading the book inspired me to love what is and it gave me strength to find the joy in the small moments, and to focus on the 'can-dos' and not on the 'no longer can do.'
At the April 2018 Loraine Halis Lecture on the Art and Science of Caregiving, I heard Meredith Wong speak about CaringKind's connect2culture program. For all that CaringKind has offered to me, a caregiver spouse, for all that I have learned through your organization, and all the resources that have been made available to me, I thank you from the bottom of my heart. I don't know how I would have survived this journey without you!"
For us it is a pleasure to serve this community and welcome you to share your stories as well.
If you need to reach us for any reason, including making a stock donation, please call 646-744-2900.