The CaringKind Alzheimer's Teen Board is a group of dynamic youth leaders dedicated to raising awareness about Alzheimer's and dementia and caregiving. The Teen Board advocates for research funding, supports people with the disease and their families, and educates peers and future Gen Z leaders.
Too many teens have grandparents suffering from Alzheimer's and it is their mission to support caregivers and researchers to reduce the impact of dementia for future generations.
The Teen Board was recently profiled by PeopleTV for their efforts raising awareness about Alzheimer's and dementia. See the video here:

Some thoughts from the teen board on the impact Alzheimer's has on the family:
Eva: My grandmother had Alzheimer's. I had to learn patience regarding her repetition. And as a teen, the best thing you can do is to spend as much time as possible with that person. And supporting the people around you and talking about your experience.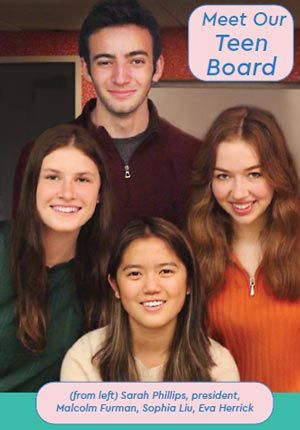 Sophia: My grandmother has Alzheimer's. She speaks Cantonese and I don't, so it's a regret of mine that I can't easily connect with her. That said, it's really nice to know that there are so many other teens who have similar experiences.
Sarah: My grandfather has dementia. Seeing the dramatic transition that he's experienced through Covid from last year to this year is really scary. But it makes me appreciate the little things. My grandfather was a doctor and I plan on becoming a doctor, too.
Malcolm: My grandfather died of Alzheimer's when I was very young. Alzheimer's is the seventh leading cause of death – a truly disturbing statistic. I know many people and friends with family who have or had Alzheimer's and have experienced the challenges associated with caring for a loved one with Alzheimer's. I hope that we, as teens, can spread awareness and help to get more support for caregivers in the fight against Alzheimer's.
Last year, the Teen Board participated in the CaringKind Alzheimer's Walk and raised almost $2,000 in support of Alzheimer's and dementia caregiving. If you'd like to support the Teen Board, you can find their 2022 Walk page at:
https://give.caringkindnyc.org/Teen-Board-2022
If you know a teen who would like to join, please go to https://caringkindnyc.org/teens/