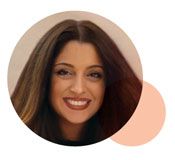 Eleonora Tornatore-Mikesh
President & CEO
Brain Health Awareness Month
June is Brain Health Awareness Month; it's a month to help raise concern and awareness for Alzheimer's and how it impacts family caregivers. We are launching our month with an amazing star-studded event. Even more special: a person with the disease is a featured speaker at our upcoming 26th annual Gala at the Pierre on June 6th.
Many exciting things are beginning to blossom at CaringKind. This year we added an element that will hopefully be a long-growing group: CaringKind Ambassadors. Who is this group? It is a group of young professionals that have been impacted by this disease and are making efforts to help change the course and become connected.
I am often asked about how difficult it must be to hear these very hard stories about people losing their loved ones. The truth is that magic often happens when people connect with like-minded individuals, and they feel supported by each other. These bonds often result in life-long friendships.
A dear friend and recent widower said to me, "Its a club we wish we were not a part of, but we're glad we've joined so we don' t have to be alone."
How can you help? This month, make a commitment to get involved. It can be a post on social media reminding people about the importance of telling their story.
A caregiver shared this quote with me: "One day you will share your story of how you've overcome what you're going through now and it will become part of someone else's survival guide." The power of storytelling, whether at an event, a simple post on social media, or talking to a person at the grocery store, all become part of a bigger solution of support.
Learn more and visit our website on how you can become part of the solution, too!
If you need to reach us for any reason, including making a stock donation, please call 646-744-2900.