You Answered Their Call – Now They Walk For Others
A Missed Birthday Raises Questions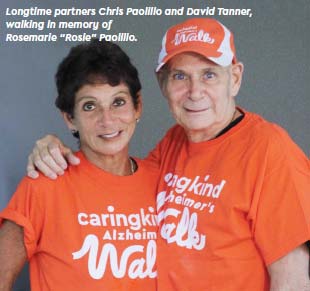 Chris: When my mother, Rosie, was 77, she broke her femur. Within a year, I noticed she was different somehow. My entire life, she had never missed my birthday. She would always call me that morning to wish me a happy birthday. But that year, she didn't. Later that year, she was diagnosed with dementia. My sister and I cared for her; I took one half of the week, and my sister the other.
We Knew We Needed Help
Chris: Initially, we could take care of her on our own. But after about two years, the challenge became too great. We weren't trained in dementia care, so we knew we needed help. There were times when I simply couldn't handle it. Then, in 2011, I started calling CaringKind for support. The Helpline staff offered some great advice. For example, I learned not to disagree with my mother when she was incorrect. That really helped!
Walking Is Empowering
Chris: We started walking with CaringKind because it made us feel like we were doing something. In that first year, not only did we raise awareness, but we also raised over $5,000. That was exciting.
David: Chris is really wired into the immediate family and the Coney Island community. She coordinates this team every year as a service, yes, but it's really the spirit of unity and family that keeps us coming back each year.

A Beloved Mother and Neighbor
Chris: Everyone loved my mother. Whenever I walked around Brooklyn and talked to someone I knew, the first question they'd ask was, "How's your mother?" People just thought so highly of her
David: Because Rosie was so loved, our Walk team grew large. And now there are others from the neighborhood
who have joined our team even though they might not have known her! There's a real camaraderie among these friends and family.
Chris: This is our 10th year walking for Rosie at the Brooklyn Walk. Because Rosie passed away in February, this is the first year we'll be walking in her memory. But we won't be alone. In fact, our latest Walk team member is Rosie's new great-granddaughter, Margaret Rose Mercedes.
David: Our Walk team has a nuclear family at the center. And that family is surrounded by extended family and ultimately friends. Together, our team represents the whole community. And when you look around and see familiar faces of your community, it's comforting.