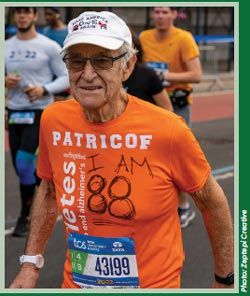 My wife, Susan, was diagnosed with Alzheimer's in 2009 and passed away from Alzheimer's in 2021. When she was first diagnosed, we had no idea about the nature of the illness and how long the journey would be or what it would require of us. I did my best to keep my wife involved in social activities inside and outside the home. In the last few years of her life, she wasn't able to speak, and we worked hard to ensure that she was comfortable. Fortunately, there are organizations that exist to help families deal with the unique challenges of dementia caregiving, and CaringKind is the leading source of this kind of support.
I participated in a support group for several years which meant meeting with a professional facilitator and a group of like-minded people who are going through the caregiving journey. It was very helpful to talk with other people who were facing similar issues. Overall, the support group was of great value and something I would recommend to anyone going through this. CaringKind also trained our professional caregivers and gave advice on different services for my wife.
I am so grateful to everyone who provided support to my family that I've spent the past few years doing my best to give back. My family has supported the CaringKind Alzheimer's Walk for the past two years and we're proud that we've raised over $250,000 for CaringKind and raised a lot of awareness in the process.
My experience as a caregiver really underscored for me an essential belief: staying active and engaged no matter your age. I believe I will live until I am 114 years old and I want to stay busy the entire time! To that end, I've been doing things I've always wanted to do. For example, I recently attended Burning Man and completed the NYC Marathon.
I've run the NYC Marathon before, but the last time I did it was 43 years ago! I did it for two reasons: 1) to inspire older people to try and overcome their fears of challenges. When something seems too difficult, do it anyway! It's worth trying - whether you fail or succeed - than not trying at all. And 2) to help raise even more funds and awareness for CaringKind. I am incredibly grateful to all my donors who helped me cross the finish line - we raised almost $600,000 for Alzheimer's and dementia caregiving. At 88 years old, I am the oldest person on record to complete the NYC Marathon, and I did it for a great cause.
Because I'm 88, I have a lifetime of hard-won experience that might help others. So, I've put all the lessons I learned into a new book, "No Red Lights." I hope that when people read my book – especially older people – they are inspired to say yes to every new opportunity. When you say yes to opportunities, it opens your future to unexpected possibilities, and before you know it, you're doing things that you didn't think were possible!
If I had advice to give someone facing an Alzheimer's or dementia diagnosis, I would say to call CaringKind. The sooner you accept the disease, the better able you'll be to navigate the journey alongside the person living with dementia. In other words, say yes to that opportunity!"