Support Groups for People in the Early
Stage of Dementia And support groups for their care partners!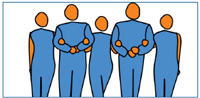 Support groups are a critical means of support for people managing a dementia diagnosis in their family. For 40 years, our support groups have historically served the needs of caregivers only, caring for someone in any stage of dementia – from early to late stage.
CaringKind is launching a pilot program to serve an unmet need: offering support groups to people living in the early stage of Alzheimer's or dementia. We're also piloting a corresponding support group for their care partners. The care partner support group will run concurrently with the early stage support group, so that both people in the care partnership get the support they need for the unique position they're in.
Here's what's interesting: We've learned that when people join a support group, they come to the group at all levels of experience – some have a little, some have a lot. The difference in experience can sometimes be a point of frustration for group members. To prevent this distracting dynamic, we are offering a 10-session workshop for potential support group members. The workshop will occur prior to the support group. The aim is to create a base level of understanding on the most common elements of dementia caregiving. This way, support group members come to their first meeting with a shared experience and a shared set of basic knowledge. The onboarding workshop should facilitate a discussion that 1) has fewer distractions, 2) covers more ground, and 3) has a more meaningful impact.
The program for people with dementia is called Journeying Together and the corresponding program for care partners is called Partnering Together.
"Fear creates stigma, and stigma creates loneliness," says Pamela Atwood, Dementia Specialist for Early Stage Services at CaringKind. "When people are first diagnosed, they feel like no one can understand what they're going through. This program creates a safe space for both the person with the disease and their care partner to express themselves and learn from their peers."
The pilot program begins in December. This program is supported (in part) by a grant from AARP. We'll share our findings with you in early 2023.For more information on Early Stage Services, visit:
www.caringkindnyc.org/earlystage