How FAIR Health's Tools and Resources Can Benefit
Older Adults with Alzheimer's Disease and Related Dementias, and Their Care Partners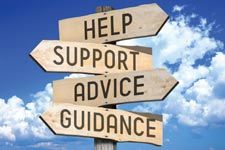 Managing Alzheimer's disease and related dementias involves making many decisions about care and related costs. Cost information is not easy to find or understand. With patients increasingly bearing more of these costs, it can be challenging to make informed decisions. FAIR Health, a national independent nonprofit, provides resources to help patients and their care partners address these issues.
With a generous grant from The John A. Hartford Foundation, FAIR Health has launched tools, educational content and resources that can help older adults with Alzheimer's disease and related dementias and their care partners. The tools are offered on a dedicated section of FAIR Health's free, award-winning national consumer website, fairhealthconsumer.org, which is available in English and Spanish.
The FAIR Health Consumer Older Adults section offers several types of tools, articles and resources that can help you use the healthcare system and manage related healthcare costs. A cost estimator tool called FH® Total Treatment Cost shows the range of costs of care for a year for several chronic conditions, including one for Alzheimer's disease and related dementias, and procedures like knee arthroscopy. How do you use this tool? Simply click on the total treatment cost scenario for Alzheimer's (or another condition or procedure of interest), click view, select the option for insurance or no insurance, and enter your provider's zip code. Based on the location of your provider, the tool will generate two types of costs: the out-of-network (or uninsured) prices and the in-network price related to the suite of services for Alzheimer's care. These prices are based on data from FAIR Health's expansive database of private healthcare and Medicare Advantage claims. Use the cost information to plan for and manage the cost of care for Alzheimer's. If you choose, you can negotiate the costs of care (more tips on that are offered here).
The website also offers decision aids for a set of conditions that are common among older adults (like hip osteoarthritis) and for which there is no "right" treatment option. They are useful when you would like to make decisions about care together with your care partner and healthcare provider based on your preferences and values, potential risks and benefits, and clinical evidence. This process is called shared decision making. Research has highlighted its effectiveness in engaging patients and care partners in healthcare decision making and reducing unnecessary healthcare spending and costs. FAIR Health's decision aids combine clinical and cost information—the latter of which is rarely included in these types of tools—for the following: hip replacement, spinal stenosis (spinal narrowing), early-stage breast cancer, fast-growing prostate cancer, nutrition options, dialysis and ventilation.
Under the FH® Healthcare Toolkit section, you can access printable checklists with questions to ask as you use the healthcare system or engage in shared decision making. Be sure to download and print them before appointments. The Financial Health Literacy section offers information and helpful tips on how to manage and prepare for healthcare costs and links to resources that can help. Educational FH® Insurance Basics articles delve into topics such as Medicare, understanding medical bills, dental coverage in retirement and help for older adults and care partners, among many others.
The Resources section offers links to organizations and agencies that provide education and services related to the care and management of Alzheimer's disease and other dementias, among other conditions. You can print various sections of the site and educational materials, making it easier to use the tools and resources at home or at the doctor's office. Care partners who need assistance with Alzheimer's care can also find information on services and support groups.
Visit FAIR Health Consumer's Older Adults section for helpful tools, articles and resources that can help you use the healthcare system and make better decisions with greater ease.