Introducing a new pilot project that will change the landscape of dementia care and research.
Imagine this: Your friend's birthday is coming up and you have no idea what to give her. Would you just buy something and hope for the best? Or would you simply ask her what she wanted and needed? You'd probably just ask! You would involve her in the gift-buying process so that you could guarantee the gift was meaningful and desirable. Sounds obvious, right?
When it comes to dementia care services and research however, it hasn't always been so obvious to involve people with dementia and their care partners in the development of programs and research designed to benefit them.
Well, CaringKind wants to help change all that. With funds from a $100,000 grant from the AARP, CaringKind is developing a new pilot program called "Make It Matter." This new education program – for people in the early stage of dementia and their care partners – seeks to prepare them for engagement opportunities in the realms of research, advocacy, focus groups, and more. Graduates of the program will be primed to have a seat at the table in government agencies, nonprofits, academic institutions, and health care companies that need stakeholders with lived dementia experience.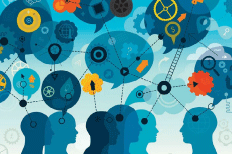 After the training is completed, participants will be able to:
Describe several types of stakeholder opportunities.
Define their own priorities for engagement.
Choose what kind of stakeholder roles would best suit them.
Identify ways to adapt to the opportunity given their changing cognitive and physical abilities.
Prepare themselves as an "optimized" stakeholder.
The training itself has both short-term and long-term goals. In the short term, participants will experience increased hope, resilience and knowledge about, and interest in, stakeholder engagement activities.
In the long term, the program will help strengthen the programs of other institutions by providing those institutions feedback from people with lived experience in Alzheimer's and dementia.
We hope both short-term and long -term goals will help participants gain some sense of ways to make a difference; to make 'it — their Alzheimer's or dementia — matter.
We look forward to sharing the results of this pilot program with you in the Fall newsletter. Stay tuned!