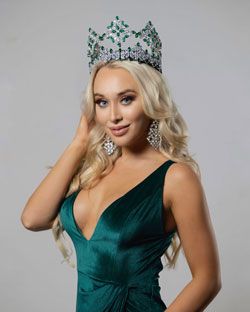 Today, CaringKind, the leading expert in Alzheimer's and dementia caregiving, announces a new advocate for CaringKind: Miss World America 2020, Ms. Alissa Anderegg.
For over 40 years, CaringKind has provided care and support for Alzheimer's and dementia caregivers and the people in their care. Ms. Anderegg has experience as a caregiver – her grandmother had Alzheimer's. In honor of her grandmother, Ms. Anderegg chose Alzheimer's Disease as her charitable cause.
"'Beauty with a Purpose' is the heart and soul of Miss World America, so I chose CaringKind as a beneficiary for my advocacy efforts because it's a natural fit," said Ms. Anderegg. "I have seen the devastating impact that Alzheimer's has not only on the person with the disease, but also on their family. CaringKind's focus on caring for the caregiver, as well as the person with dementia, is the kind of holistic approach I believe in."
"We're always happy when our cause gains another advocate, and we're especially happy when that advocate has a personal connection to caregiving," says CaringKind CEO, Eleonora Tornatore-Mikesh. "Ms. Anderegg, through her platform with Miss World America, can raise more awareness about Alzheimer's caregiving than we can on our own. That she brings experience as a professional communicator, scholar, and philanthropist makes her contribution to our wellness initiative all the more effective."
CaringKind's latest initiative is a focus on wellness, to help people (especially caregivers) improve physical and mental health in order to lower risk factors associated with Alzheimer's disease. Wellness efforts include a virtual exercise series called Wellness Wednesdays, a Diversity Conference to address health disparities among people of color, a long-standing and extensive network of 83+ caregiver support groups, and more.
For over 40 years, CaringKind has provided expert training and support to families affected by Alzheimer's or related dementias. CaringKind does this through a variety of services such as a Helpline (646-744-2900), over 90 support groups, social work services, specialized training for both professional and family caregivers, education seminars on complicated healthcare issues, and a Wanderer's Safety Program to protect dementia patients who get lost. CaringKind also produces Caregiver/Storyteller, the #1 caregiving podcast on iTunes.
CaringKind's programs and services are free. Ninety-five percent of CaringKind's budget is privately funded through individual and institutional philanthropy from foundations and corporations.
The mission of CaringKind is to create, deliver, and promote comprehensive and compassionate care and support services for individuals and families affected by Alzheimer's disease and related dementias, and to eliminate Alzheimer's disease through the advancement of research. We achieve our mission by providing programs and services for individuals with dementia, their family and professional caregivers; increasing public awareness; collaborating with research centers; and informing public policy through advocacy.
CaringKind is a tax-exempt organization under Section 501(c)(3) of the Internal Revenue Code (Tax ID number 13-3277408).