Athletes to End Alzheimer's® is an initiative started by CaringKind to give endurance athletes the opportunity to participate in the events that they love while working to have an impact on people affected by dementia or Alzheimer's disease, the nation's sixth-leading cause of death. Via triathlons, bikeathons, marathons and more, athletes across the greater NYC area will come together to support the millions affected by the disease and those who care for them. Join us as we swim, bike, run and compete to reclaim the future of millions, provide support to those living with and taking care of someone with dementia, and to ultimately do our part to end Alzheimer's.
For more information about CaringKind's Athletes to End Alzheimer's Program, please contact athletes@caringkindnyc.org or call 646-744-2900.
Swim, Bike, Run, Compete.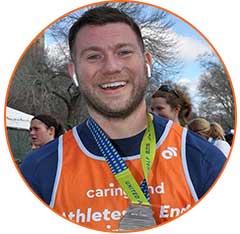 2022 NYC Half Marathon
March 20, 2022
About Event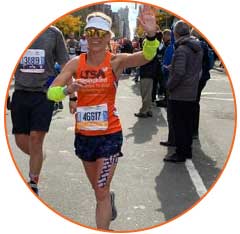 2022 NYC Marathon
November 6, 2022
About Event
What We Provide
Team Athletes to End Alzheimer's has three primary goals:
that each of our athletes successfully and safely completes the event
that each athlete has fun doing it, and
that each athlete is able to make a difference through raising funds and awareness for CaringKind
Our team provides athletes with:
Coaching (Team Running Program)
Web tools (customizable fundraising web page, email templates, etc.)
Team Athletes to End Alzheimer's gear
Thank You Reception
Any support you may need along the way