With Music in Mind®

Music has been proven to connect and engage with individuals living with dementia. This program, developed in part with Orpheus Chamber Orchestra, engages families through performed music and social interaction. Music selections are chosen to connect with the community audience. Following the performance, a social tea is offered as an opportunity for audience members and musicians to talk over light refreshments.
Along the Garden Path®
This program encourages exploration through the senses, walking along the garden path to take in the sights, sounds and smells of the outdoors. Guided by a knowledgeable and trained facilitator, families impacted by dementia are encouraged to take time to talk about and enjoy the green spaces of a botanic garden. Opportunities for artmaking or planting are offered to create a take-away that could be duplicated or cared for at home.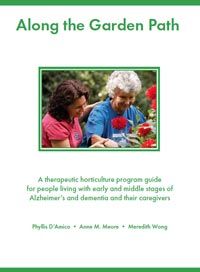 Along the Garden Path Program Guide Excerpt
An Along the Garden Path  program guide that includes the basics of dementia and a series of seasonal programs with full color instructional images and step by step instructions that can be implemented in almost any accessible botanic setting is available for purchase by contacting CaringKind's 24-hour Helpline, 646-744-2900 or email helpline@caringkindnyc.org for more information. This program guide is available to only horticultural organizations.
Caregiver Programs Initiative
The autonomy of caregivers of people with dementia is often lost as their focus shifts to caring for the person living with the disease. This gradual loss of the caregiver's own identity contributes to feelings of frustration, anger, depression, and helplessness. In recognizing the caregivers' need to re-establish themselves as autonomous individuals, connect2culture has partnered with several New York City cultural institutions in 2019 to create caregiver-specific programs to support their wellbeing.
For more information, please contact the 24-hour Helpline 646-744-2900 or helpline@caringkindnyc.org.