Become a Confident Caregiver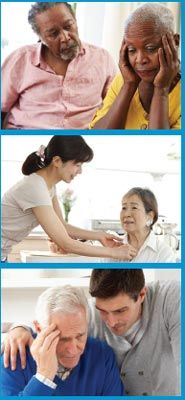 Are you a family member or a friend providing care for someone with memory loss? Feeling stressed? Juggling emotions? Struggling to manage distressing and challenging behaviors? Do you want to build your caregiving skills? Reach out to schedule an appointment to discuss your needs and situation.
CaringKind Dementia Specialists provide free, personalized consultations for individuals and families facing the decisions and challenges associated with Alzheimer's disease and other dementias
Dementia Specialists can assist with:
Assessing current needs and priorities
Developing a better understanding of the disease
Creating a plan to obtain necessary care
Discussing options for symptom management
Addressing the emotional impact of the disease
Dementia Specialists also provide 1:1 Coaching Services to educate and empower family members with the caregiving skills they need.  Using best practice techniques and research-based tools, our specialists coach you into a better dementia caregiving experience.  Private in-person or virtual 1:1 coaching sessions usually occur monthly for 4-6 months.
Sessions focus on Managing Stress, Understanding Your Feelings, Using Skillful Communication, Relating Memory Problems to Behaviors, and Home Safety.
Sessions incorporate research-based interventions including REACH-II, New York University Caregiver Intervention, Skills2Care®, and more.
Services are available in English and Spanish.
To schedule an in person, phone, or Zoom consultation with a Dementia Specialist, reach out to our Helpline by phone (646) 744-2900, via our online form or by email: helpline@cknyc.org.
---
CaringKind's Coaching services are currently provided free of charge to family members/friends supporting someone living with Alzheimer's or another form of dementia. Coaching services (valued at $150 per session) are funded through grants, donations, CaringKind Walks, Forget-Me-Not Gala, fundraising events, and other philanthropic efforts.
This project is supported by the Administration for Community Living (ACL), U.S. Department of Health and Human Services (HHS) as part of a financial assistance award totaling $1,333,945 with 75% funded by ACL/HHS and $333,971 and 25% funded by non-government source(s). The contents are those of the author(s) and do not necessarily represent the official views of, nor an endorsement, by ACL/HHS, or the U.S. Government.