Creative Care
Transforming How We View Dementia Care
A Conversation with Anne Basting, PhD
Speakers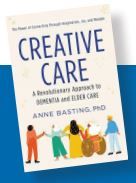 Anne Basting, PhD Award winning artist, scholar and author, Anne Basting, PhD, will discuss her latest book: Creative Care: A Revolutionary Approach to Dementia and Elder Care. Dr. Basting is an innovator in the field of using creativity and imagination as tools to engage, connect and bring joy and moments of awe to those living with dementia and their caregivers. We will explore the challenges and opportunities of using creative expression to bring meaning to those on both sides of the caregiving dyad. The founder and President of award winning non-profit TimeSlips Creative Storytelling, Dr. Basting's lifetime of work inspires all she teaches, from young adults to nursing home
residents and staff.
Jed A. Levine, moderator, CaringKind President Emeritus and longtime colleague of Dr. Basting, working together for over twenty years with the common goal
of improving the lives of all those touched by dementia.
Previous Lectures