With Edward G. Shaw, MD, MA
Wednesday, November 15, 2023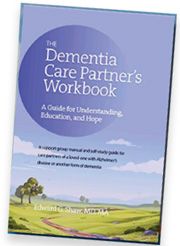 Based on Dr. Shaw's book The Dementia Care Partner's Workbook, this talk describes the eight most important needs all dementia care partners have in their caregiving role to a loved one with Alzheimer's disease or another form of dementia. This framework provides understanding, education, and hope for dementia care partners on their long journey of caregiving.
Edward G. Shaw, MD, MA, was the primary care partner for his late wife Rebecca.
Inspired by Rebecca's Alzheimer's journey, his medical interest shifted from oncology to dementia care and support. With additional training in mental health counseling, he founded the Memory Counseling Program in Winston-Salem, North Carolina. Since its beginning in 2011, this program has benefited thousands of families.
Dr. Shaw generously shares his personal experiences and professional expertise
through seminars and four books including: Keeping Love Alive as Memories Fade: The 5 Love Languages and the Alzheimer's Journey with coauthors Deborah Barr and Dr. Gary Chapman; The Dementia Care Partner's Workbook; A Leader's Manual for Dementia Care Partner Support Groups; and A Support Group for People Living with Dementia: The Leader's Manual.
We wish to extend deepest gratitude to The Halis/Scolnic Family for their extraordinary support of our caregiver programs and services.
Previous Lectures