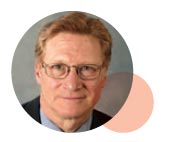 Jed A. Levine, Executive Vice President and Director of Programs at CaringKind, stressed the importance of support for Alzheimer's family caregivers during the Nov. 15 #ElderCareChat, a highly regarded forum for those who are passionate about the well-being of seniors.
Levine was the expert guest panelist for the hour-long #ElderCareChat, which outlined the challenges faced by family members who are caring for a loved one with Alzheimer's and identified ways for these caregivers to reach out for help and support.
The chat pointed out the unique issues that Alzheimer's caregivers must confront as the disease progresses. They are facing a long-term care situation in which their loved one's ability to communicate and function steadily diminishes. Years of caregiving take both a physical and emotional toll. "Caring for a relative with Alzheimer's is complicated, as the person requires more help over time," Levine said. "That is why caregiver support services are so important to maintain caregiver well-being."
Throughout the #ElderCareChat, which generated nearly 3 million impressions from 276 tweets, a consensus emerged that it's important for family caregivers to seek help from others when the burdens of caregiving become too much. "It is often one person doing most of the care," Levine tweeted. "That person can experience severe burnout without assistance. You must remember to take care of yourself so you can continue to do the hard work of caregiving."
Participants in the #ElderCareChat had several ideas for seeking relief when caregiving duties become overwhelming, including turning to other family members and friends for help, using respite care options; pursuing adult day care or in-home case options; and making use of community resources. Levine reports that CaringKind has a helpline that caregivers can call to find out about the various resources and programs available to them.
"We recommend finding local resources in your community for support and information and also find (someone) to share your experiences with so you are not doing it alone," Levine told #ElderCareChat participants.
Throughout the #ElderCareChat hour, participants provided insights from their own personal and professional experiences with Alzheimer's caregiving. Here are some highlights from the discussion (scroll through to view all):
#ElderCareChat is presented by OurParents.com and sister sites SeniorAdvisor.com and VeteranAid.org as a forum to share resources, experiences, and expertise in eldercare. #ElderCareChat typically meets mid-month; the next chat will be December 13 at 1 pm ET. Stay tuned to @OurParents Twitter handle for further details.