2016 CaringKind Golf Outing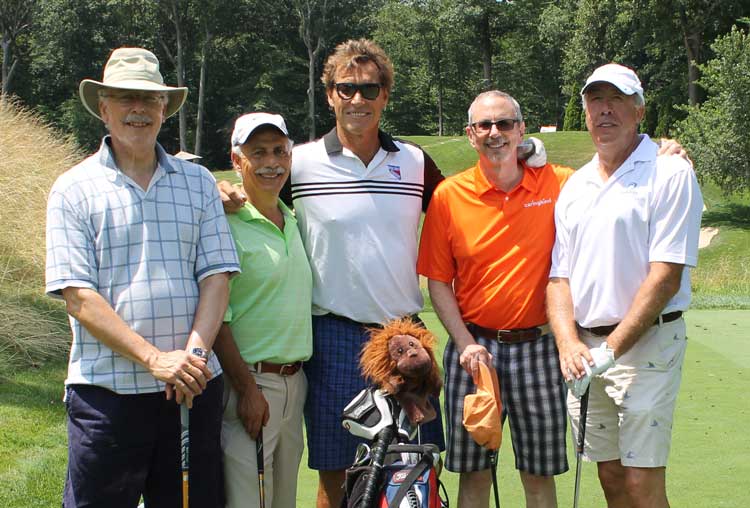 From left: Dr. Ken Kahaner; Nathan Halegua, CaringKind Board member and Golf Outing Committee Chair; Ron Duguay, former NHL All-Star and Emmy Award-winning Broadcast Analyst; Dr. Alan Schechter; Stepehen Beyer
On Monday, July 25, CaringKind held our 5th Annual Golf Outing, sponsored by GCP Capital, LLC, at the Glen Head Country Club on Long Island. The event was a huge success, raising over $168,000! As our 21 foursomes hit the course, they found Ron Duguay, Emmy Award-winning Broadcast Analyst and former NHL All-Star, on Hole 16, where he challenged them to a Beat the Pro contest. Although thunderstorms loomed, the rain held out until the end of the day when it was time for the cocktail reception and dinner. At the dinner, CaringKind honored Dr. Max Gomez, CBS 2 Medical Reporter, with the Community Partner Award for his outstanding dedication to Alzheimer's advocacy.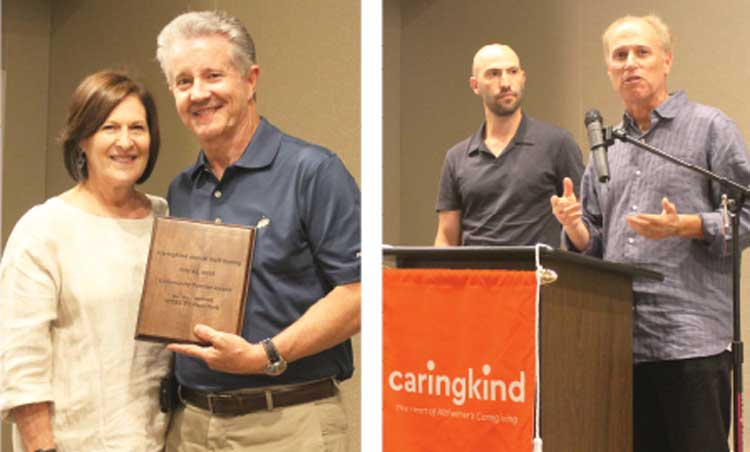 Left: CaringKind President & CEO Lou-Ellen Barkan presents Dr. Max Gomez with the Community Partner Award
Right: Golf Outing Committee Chairs Josh Halegua (left) and David Azus address the attendees at dinner
We could not have held this tournament without the help of our incredible Golf Committee. A special thanks to our Board member and Golf Committee Chair, Nathan Halegua, who started this event with us in 2011, and his fellow Committee Chairs, David Azus and Josh Halegua, for all of their hard work. We would also like to thank all of our sponsors for their contributions to the event. We hope to see you in 2017!


From left: Michael Imperiale; Stephen P. Casper, CaringKind Board Co-Chair; Ron Duguay; Dr. Max Gomez, CBS 2 Medical Reporter; Allan Keene
From Right: John Fiore and CaringKind Board member Marianne Dziuba-Fiore