NYC Alzheimer's Caregiver Month Recap
Anna Feldman
CaringKind Summer Intern
CaringKind provides countless services to the caregivers of New York City but this summer, we wanted to go beyond that.
"We realized that we were missing something," said CaringKind's President and CEO, Lou-Ellen Barkan. In addition to helping caregivers, we should take the opportunity to celebrate them as well.
This was the thought behind NYC Alzheimer's Caregiver Month. And, once the idea was conceived, there were enthusiastic thoughts and suggestions from staff, clients and volunteers, all energized by the possibilities of this brand new awareness initiative. With just a month to plan, we had to move quickly to organize, knowing that permits for parks, plazas, and public spaces take time to apply for and confirm. Despite the time crunch, we dreamed big. We contacted our extended community partner networks, asked for help, spread the word and invited people to join. Our efforts were rewarded whenever someone said they agreed.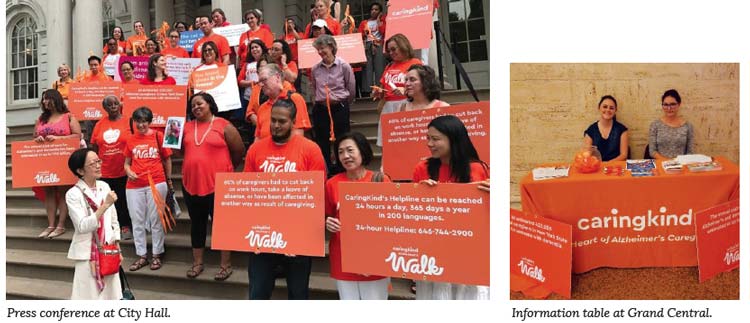 We focused on a few key events. The City Hall Kickoff became the keystone event. On August 2, dozens of supporters and staff in orange gathered on the front steps of this iconic landmark. Lou-Ellen and Jed Levine, EVP and Director of Programs and Services, spoke about the importance of dementia caregivers and how New York's City Council recently appropriated $4 million for caregiving programs, a first in the city's budget. We were honored to have Council Member Margaret Chin in attendance as well as Robin Fenley and Caryn Resnick from the Department for the Aging. Caregivers gave heartwarming testimonies and shared their stories. Staff member Candace Douglas, an NYC caregiver for her grandmother, said, "Caregiving is tough but it also has its rewards and its victories. It's the small things, like singing a Frank Sinatra song and coaxing a smile and a hum. And it's the big moments like joining together at the CaringKind Walk and seeing my grandmother's legacy grow with the next generation of my niece and nephews."
After the kickoff, as the month went on, New Yorkers were invited to numerous activities and events in honor of caregivers. The most notable of these included CaringKind tables at Grand Central Station and Flatiron Plaza. With so many balls in the air, and no blueprint to refer to, the staff and volunteers moved quickly to take advantage of the time we had for this first ever series of events.
Throughout, Lou-Ellen kept everyone grounded with the very appropriate mantra, "Perfection is the enemy of success." We would move ahead, learn as we went and set the stage for future years and success. Our inaugural NYC Alzheimer's Caregiver Month was a great success and we look forward to a bigger, better 2018 celebration!