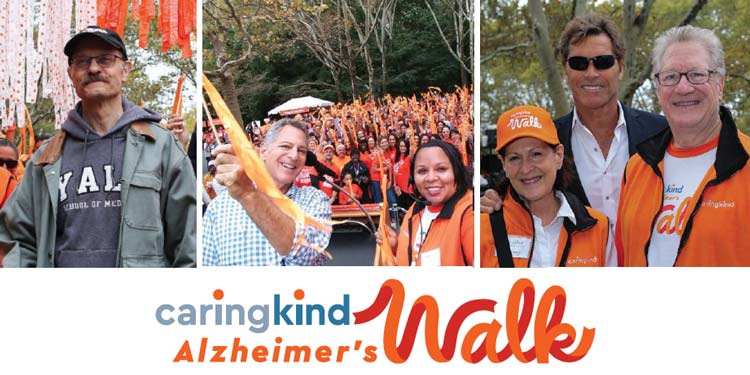 The CaringKind Alzheimer's Walks brought thousands of New Yorkers together in Brooklyn, Queens, Staten Island and Manhattan, all with the mission to support care, advocacy and research. Throughout the city, walkers raised their ribbons and their voices to #GIVECARE.
Sporting our bright orange color, our walkers joined together to honor and remember those affected by an Alzheimer's or dementia diagnosis, while also highlighting and celebrating the sacrifices and efforts of caregivers throughout New York City.
Honored with this year's "Community Partner Award" was Alex Schweder who is a Visiting Associate Professor at the Pratt Institute School of Design. Also honored with the "Good Samaritan Award" was CNA/mental health technician Shauna Hall.
Thank you to our 2017 Walk Team Captains, Walkers, and their families, co-workers and friends who supported our Walks.
Thank you to our staunch supporters, including our emcee, WABC-TV's Bill Ritter and celebrity champions David Hyde Pierce and Ron Duguay, and all of our sponsors.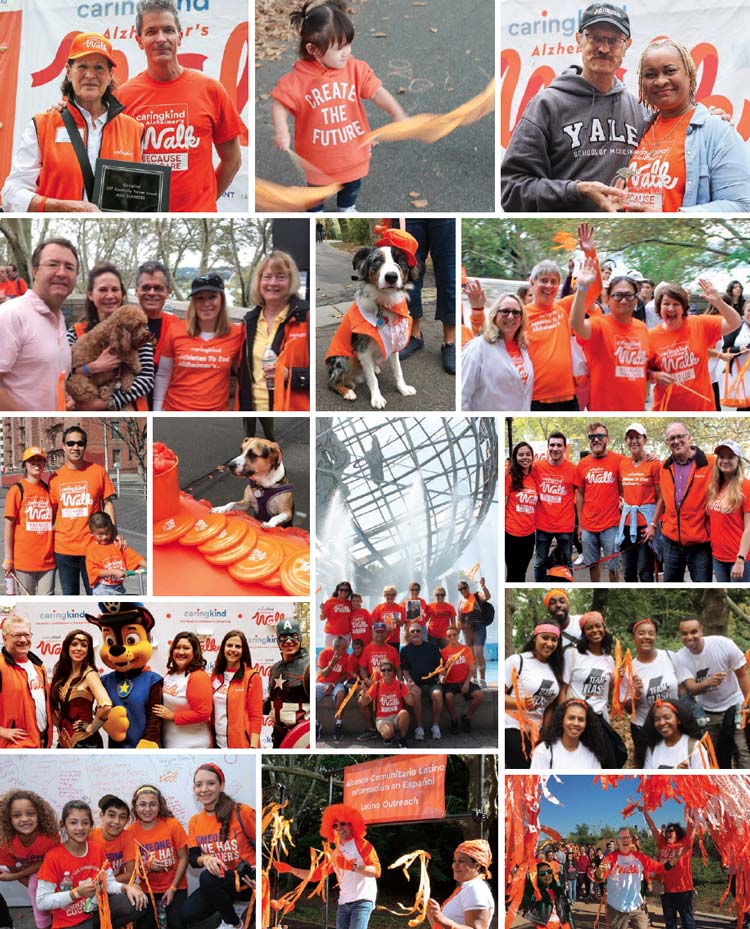 THANK YOU TO OUR SPONSORS
Corporate
Bloomberg Philanthropies
G-III Apparel Group, Ltd.
Axovant
Lafayette 148 New York
Eisai
80th Street Residence
Cambell Soup Company
Cobble Hill Health Center
Frenkel Benefits
Grimaldi & Yeung LLP
Humana
Isabella Geriatric Center
The New Jewish Home
Taub Institute at Columbia University
Woodloch Resort
Adiant Mobile | The Alzheimer's Store
Alz You Need
Balance App for Alzheimer's Caregivers
The Brielle at Seaview
GreyMatters
Independence Care System
Littman Krooks LLP
Memory Lane
Music & Memory
MicroEssential Laboaratory
Richmond County Bank Foundation
South Fin Grill
The Vanderbuilt
IN-KIND
Alfonso's Pastry Shoppe

Bai Brands, LLC

Beanitos Inc.

Biena Snacks

Canarsie Courier

DJ Pruf

Enjoy Life Foods

Farmer Brothers
Feel the Beat Productions
Ferry Ads
Holtermann's Bakery
Queens Chronicle
Queens Tribune
Ryhythm Superfoods
Verday