Lou-Ellen Barkan
Founding Director
---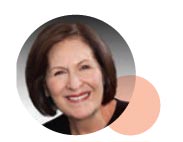 Technology
We take it for granted that technology makes life easier and better. We order goods and groceries, pay our bills, read our books and watch our movies online. And most of the time, everything works just fine. Until it doesn't. And that's when we look for help from a real live human.
Problem is, most of the time, organizations don't have enough staff with enough knowledge to solve our problems. So, they parse it out. You talk to one person for an introduction and then end up on one or more queues to get just the right expert you need.
I don't know about you, but if I had all the hours that I've waited on the phone for a person to help me solve a problem, I could write the great American novel or a symphony. So, I've come to value organizations that provide quick access to human experts who listen, advise and are accessible for follow up, however many times I need them. How many of these organizations do you have in your life? I have very few, so as CaringKind's Founding Director, I am proud that we remain committed to the human touch, the gold standard in personalized service for individuals and families affected by a dementia diagnosis.
Our 24-hour Helpline and social work services, available free of charge, are provided by experienced professionals who listen and guide you with expertise and kindness at what may be the hardest time of your life.
In my opinion, more than a few other organizations could learn a few things from CaringKind, but while they are learning, you or anyone you know can take advantage of CaringKind's human touch. And save your time for doing the things you love!
---

Beware! Phone Scam
There's a new phone scam targeting Social Security beneficiaries that advocates for older adults should be aware of. The Federal Trade Commission is warning that scammers are engaging in a caller ID trick called "spoofing" to make it appear that they are calling from the Social Security Administration (SSA).
These phony callers claim to work for SSA and ask for personal information—such as the individual's Social Security Number—supposedly in order to process a benefit increase. These scam artists have also tried to get this information by claiming that the person's benefits will be cut off if the personal information isn't provided. To learn more, including where to report such calls, and what people should do if they get one of these calls, read the FTC's warning at www.consumer.ftc.gov and click on "Scams".
If you or your organization directly serve older adults, please make this information available widely in your community.