Jed A. Levine
President & CEO
---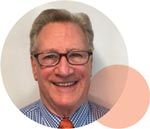 Dear Readers,
"I don't need a caregiver support group. I've never been a joiner. I can handle this by myself."
"I have no interest in listening to other people's problems.
I have enough of my own."
"Who has the time for a support group?"
In my almost 30 years at CaringKind, I have heard every possible excuse from caregivers who are reluctant – for whatever reason – to join a support group.
But, just as often, I hear the flip side:
"This CaringKind support group has changed my life."
"There's nowhere else I feel as safe. Here in this circle, no one is judging me. These people understand what I'm going through because they've been here too."
"The friends I have made in this group are friends for life."
Being a dementia caregiver can be isolating, frustrating, and scary. Even the strongest, most independent person needs a little help. Such was the case with Susan.
Susan was caring for her husband who had early onset Alzheimer's. A take-charge person of the highest order, she was going to manage this alone. But, soon, she realized that she was in over her head.
Fast-forward seven years, and Susan is now one of our most loyal and committed support group members. She freely tells the story of her transformation. Susan says that the sense of community and belonging she's found in her support group has become one of the most important cornerstones of her life. All she needed was to take the first step. Support groups are the foundation of CaringKind's services. Their roots trace back to the mid-1970s when a group of family caregivers came together to try to help each other and to find information about this, then, little known disease. Out of that very humble beginning came what is now CaringKind.
Support groups are important for so many reasons. They help caregivers stay connected with professional help and resources during a time when the overwhelming responsibilities of caring for a person with dementia can easily lead to further isolation.
Support groups are invaluable sources of information. And what better experts are there than other caregivers? These caregivers have been there and can cite chapter and verse on innovative tips they use to prevent wandering, simplify mealtime, make bathing or bedtime easier, or calm agitation. They also share resources about professionals they have worked with, research centers, home care, day care programs and the like. Group members don't just share valuable information, they share their stories, their conflicts, their frustrations, guilt and grief. Ultimately, it is the emotional sharing that gives group members the strength and encouragement not just to care for the person with dementia but to begin to care for themselves.
But two other things set CaringKind support groups apart from others.
First, our volunteer support group leaders are the very best. Their willingness to support dementia caregivers is unparalleled. They give so much of their time, energy, knowledge and compassion. They are a dedicated group of individuals that go through rigorous training provided by experts in the field. Our training acknowledges that caring for someone with Alzheimer's or dementia has very profound psychological and emotional consequences. Leaders are well versed in the technique and theory of group process.
Even after the training is complete, they receive ongoing support and supervision. This ensures that the people who lead our groups create a nonjudgmental environment where every group member feels safe, supported and accepted. Even though these are not therapy groups, they are, in a very real sense, therapeutic.
Something else distinguishes our support groups from many others. These are not "drop in" sessions. Many groups meet weekly – some meet twice a month. We ask our caregivers to make a firm commitment to participate. This is a commitment not just to themselves but to their fellow group members. Every participant understands the "contract" with their other caregivers as well as the rules of the group. Respect for one another is paramount.
I get it. Support groups are not for everyone. But, I encourage any caregiver who is feeling isolated and alone, to please call our 24-hour Helpline to learn more at 646-744-2900.
I promise you. It can change your life.
P.S. Please support our 2018 Year-End Campaign on page 14. Your help is very much appreciated!
Sincerely,