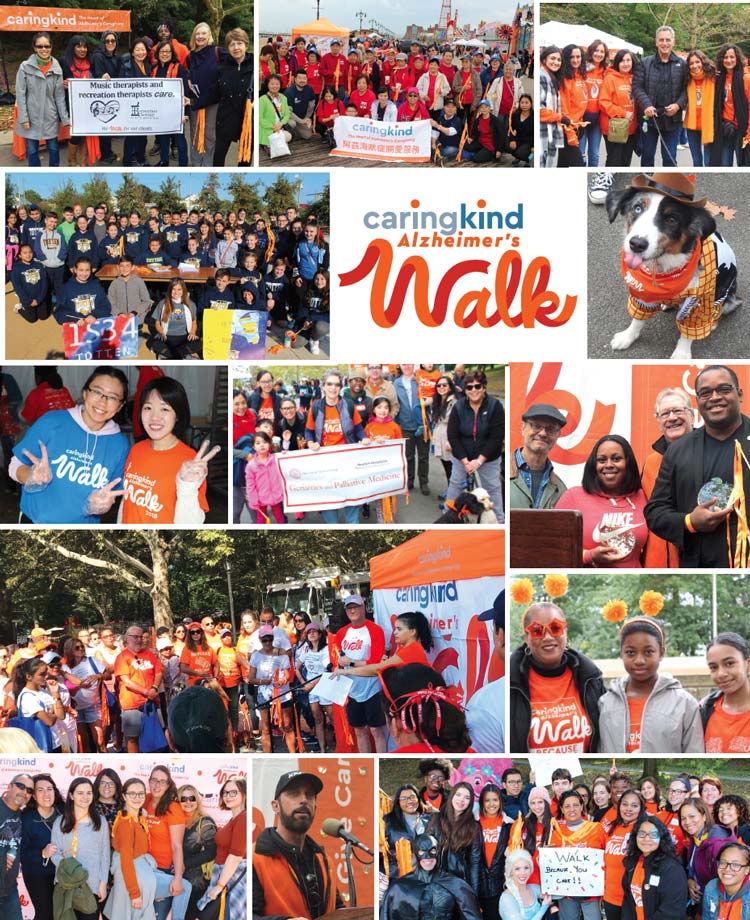 The CaringKind Alzheimer's Walks brought nearly two thousand New Yorkers together in Brooklyn, Manhattan, Queens and Staten Island, all with the mission to support care, advocacy and research. Throughout the city, walkers raised their ribbons and their voices to give care.
Sporting our bright orange color, our walkers joined together to honor and remember those affected by Alzheimer's or dementia diagnosis, while also highlighting and celebrating the sacrifices and efforts of caregivers throughout New York City.
At the Manhattan CaringKind Alzheimer's Walk, the "Good Samaritan Award" was given to NYPD Officer Wilhem Thomas and two everyday New Yorkers -- Aiyesha Ubiles and Natalie Arthur Campbell -- who got involved and helped return to safety two men -- one with dementia and one with Alzheimer's -- who had wandered and become lost.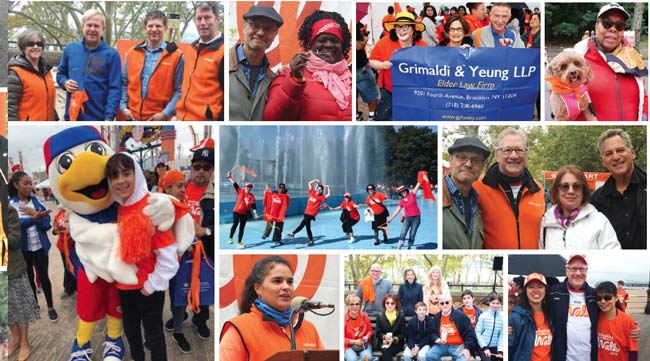 And in a surprise moment, we also took time to honor our loyal supporter, WABC-TV's Bill Ritter with this year's "Community Partner Award". Bill has been dedicated to CaringKind and the cause, emceeing our Manhattan Walk for almost 20 years. CaringKind's other staunch supporter, Tony award winning actor and tireless advocate for the Alzheimer's community, David Hyde Pierce, presented the award. It was a lovely day for all!
Thank you to our 2018 sponsors, Walk Team Captains, Walkers, and their families, co-workers and friends who supported our Walks. Because of you, we raised over $600,000! Thank you for supporting us, donations will continue to be accepted until November 30.
THANK YOU TO OUR SPONSORS
Bloomberg
Allergan
The Boxer Foundation
The Hirsh Family
The New Jewish Home
Taub Institute for Research on Alzheimer's Disease & the Aging Brain
The 80th Street Residence
Eisai
Frenkel Benefits-an EPIC Company
Grimaldi & Yeung LLP
Cure Alzheimer's Fund
Trialspark
Maplewood Senior Living
Empire Blue Cross Blue Shield
Littman Krooks LLP
305 West End Assisted Living
The Brielle at Seaview
Watermark Retirement Communities
Care Patrol
Weill Cornell Center on Aging & Beha
Lafayette 148
MicroEssential Labs
G-III Tech Fair
Alz Store
Bonbouton/Quikiks
GreyMatters
LifeShareCare
Music & Memory
Pop Doc
Soundmind
Pixie Scientific
Community Partners
Sunnyside Community Services
Bay Ridge Center
Seivah: Life Beyond Memory
SAGE
LIAF
Richmond Behavioral Associates