At 87 years old, Alan Patricof, one of the first investors in the venture capital industry, is still an optimist.

He believes he will live until he is 114 years old. In November, he will attempt to jog (or walk) the New York City Marathon for the sixth time. He says that every day, he waits to see if the next Steve Jobs or Elon Musk will walk through the elevator of his office on 55th Street.

Patricof, who had recently returned from Burning Man when he sat with me over a Zoom call earlier this week, likes to take a positive spin on everything. That's why 2021 was so difficult.

Last year, when valuations were surging to new heights and billions of dollars were being thrown into cash-burning ideas, Patricof says it was noticeable that none of the people sitting around him had lived through the Dot-Com Bubble.

"It's no fun to be the only one that has," he says, noting that the 2008 financial crisis was merely a "blip" in comparison.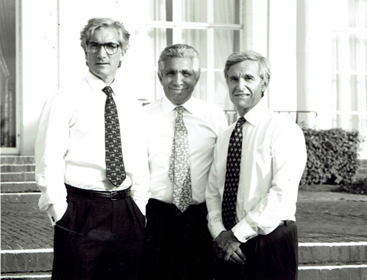 Ronald Cohen (left), Maurice Tchénio (center), and Alan Patricof (right) founded private equity firm Apax Partners in the 1970s. Courtesy of Alan Patricof
---
Alan Patricof has been investing in the private markets for 50 years, and says "it's no fun" to be the only one around the table to have lived through the Dot-Com Bubble.Courtesy of Alan Patricof
Patricof has been investing in the private markets for more than 50 years—before investing in startups was even called "venture capital." In the 1970s, he founded the private equity shop Apax Partners, which is now a $51 billion firm, with Sir Ronald Cohen and Maurice Tchénio, then went on to found the early-stage VC firm Greycroft in 2006, where Patricof is now Chairman Emeritus and still works with about 10 portfolio companies. Two years ago, Patricof opened a new firm, dubbed Primetime Partners, with Thrive Global veteran Abby Miller Levy to invest in startups that serve senior citizens. The firm has already backed 27 companies.

Over the last year and a half, Patricof says he has become very vocal in Greycroft and Primetime meetings, recollecting his own lived experience during the Dot-Com Bubble, when he says at least one of his portfolio companies was unable to make payroll nearly every week.

"When you've only seen upcycles, you get carried away by the euphoria of valuations," Patricof tells me. "As a result, we've had a lot of excessive valuations, particularly at the later stage, because funds have gotten bigger and they've got to put their money to work. And they love the fact that someone's raising more money and kind of discard…what the pricing is."

In that euphoric state, it becomes easy to disregard the risk-reward ratio or what exit potential actually looks like. Apart from a few exceptions (such as Adobe planning to aquire Figma, which will be a major win for Greycroft), prices have largely dropped or flattened for new funding rounds—and exits have stalled.

"Valuations are more sensible than they were six months ago," Patricof says, "but I still think they have further to go down to get to a more normal level. That said, if you take a long-term perspective, there's some very good opportunities. There are already some good opportunities."

Patricof offered some sage advice he has learned from investing for the last 50 years.

"An old friend of mine used to say something…I learned was true: You can't count on a cascade of miracles… Revenues are going to go up. Margins are going to go up. Profitability is going to go up. These things don't all work in unison."
Other lessons are that the valuations don't count as much going in as they do going out. "If you go in at too high a price, you'll never be able to get an adequate return," Patricof says.

Thus far, 2022 does feel different than two decades ago, Patricof says. Startups have kept their spending in control and been more disciplined.

While the broader venture industry may have slowed down the last few months, Patricof hasn't. He has been training for the marathon, which he is jogging to fundraise for CaringKind, a caregiving organization for Alzheimer's and dementia patients, that helped his family after his wife was diagnosed with Alzheimer's 13 years ago. She passed away about a year and a half ago.

The day we spoke, Patricof had walked five miles for three hours at the park that morning. He said his trainer won't let him walk longer just yet.

"[That's] what I really got to do to see if I can hold up," Patricof says. "I think he's afraid to find out."