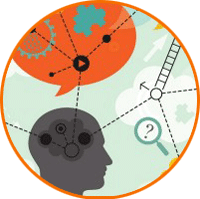 Topic
I am still me. How to Live with a Memory Loss diagnosis
Monday, April 10 ~ 6:00 - 8:00pm
Resources for people with a diagnosis of memory loss.
This is a program for YOU.
We at CaringKind have been listening to you — and we hear your concerns, your strengths, and your voice. In this program, we'll share with you what we have learned from people with memory loss. We will discuss programs designed for you with your input. And we can help you move from shame or embarrassment to acceptance and advocacy.
Getting a diagnosis and disclosing a diagnosis.
Message to my family: listen to me.
Understanding other people's responses to your diagnosis.
The challenges, complexities, frustrations, and the good times.
Clinical trials - yes or no?
Maintaining friendships and creating new ones.
Ooops… dealing with forgetting, making blunders, and mistakes.
Meaningful activities, meaningful life.
Speaker: Roni Lang, LCSW, Clinical Social Worker Department of Psychiatry at Greenwich Hospital Adjunct Instructor at University of Connecticut – Stamford
For more information or to register over the phone, contact CaringKind Helpline (646) 744-2900.