Michael Hermann
Reverberation Co-Founder, CEO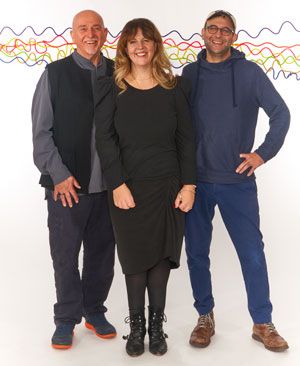 Founder Michael Hermann launched Wicked Cow (Reverberation's managing partner) in 1995 as a TV production company, producing its inaugural project, Reverse Angle, a sports/entertainment show Michael hosted airing on Fox Sports.
In the late 1990s into the 2000s, Michael consulted for the CEOs of two of the most pop-culture-shaping brands of their time—FUBU and Maxim Magazine—providing a front-row seat to the power of these cultural titans.
In 2004, he transformed Wicked Cow into a brand strategy/business development agency spending the next decade helping to oversee such culturally iconic brands as The Notorious B.I.G., the Roberto Clemente Estate, the Julius Erving brand, Pelé, The Wiffle Ball, Inc., Big League Chew, among others.
In 2013, Michael co-founded with Derek Jeter, their content and media studio, Jeter Publishing, which featured a two-imprint joint venture with publishing giant, Simon & Schuster, and several best-sellers.
Next for Michael was the creation of Wicked Cow Studios, and its children's book sensation, Lulu Is A Rhinoceros, which it co-created and published, yielding partnerships with Scholastic, Bonobos, BarkBox, The Ellen Show, Zappos, Target, and the African Wildlife Foundation.
Now, Wicked Cow is engineering a world-class brain brand through its revolutionary neuroscience-driven media company, It's All In Your Head. Its brand extensions include a special-edition magazine collaboration with Time Inc., selling more than 94,000 copies in six months. It's All In Your Head brand partners also include WebMD, 92nd Street Y, Seth Rogen's Hilarity For Charity, BarkBox, and others.
Wicked Cow recently boasted two thrilling multimedia collaborations, one with Complex Networks for the Sneaker of the Year brand, and with Fast Company for Innovation By Design.
Michael was recently appointed to Fast Company's Impact Council.
---
Peter Gabriel
Reverberation Co-Founder
Peter Gabriel first rose to fame as the flamboyantly costumed lead singer of the innovative progressive rock band Genesis. After leaving Genesis in 1975, Gabriel launched a successful solo career with the hit single "Solsbury Hill." His 1986 album, So, sold over 6.8 million copies worldwide. His video "Sledgehammer" remains the most played music video in the history of MTV.
Since 1980, when he released the anti-apartheid single "Biko," Gabriel has championed a series of humanitarian projects. He has participated in numerous benefit concerts for different causes, both on and off stage, including Amnesty International's "Human Rights Now!" tour which travelled the world in 1988.
In 1980, he founded WOMAD (World of Music, Arts and Dance—to present the world to the world) which has organised 170 festivals in over 30 countries.
He conceived of Witness.org, the human rights organization in 1992 to introduce citizen video and technology into human rights campaigning. He also founded the Elders.org with Nelson Mandela and Richard Branson in 2001 to bring together a respected group of world leaders, whose influence could stem not from political, economic or military power, but from experience, integrity, and wisdom.
To date, Gabriel has won six Grammy Awards and 13 MTV Video Music Awards. He has twice been inducted into the Rock & Roll Hall of Fame, first as a member of Genesis, and again as a solo artist. In recognition of his many years of human rights activism, he received the Man of Peace award from the Nobel Peace Prize laureates, and TIME magazine named him one of the 100 most influential people in the world.
---
Anna Gabriel
Reverberation Co-Founder
Born in London, England, Anna Gabriel moved to the US in 1992 to launch her career as a photographer and video director.
Her fine art photography has been exhibited in galleries in Sundance, Boston, New York, and London. She has also worked as a portrait photographer, photographing musicians including Iggy Pop, Moby, Nusrat Fateh Ali Khan and PM Dawn.
Anna has been directing music videos since 1997 and has worked with an array of global music stars including Joseph Arthur, Jesca Hoop, Emmanuel Jal, Adam Masterson, and Shelly Segal.
She directed the documentary/live concert films Growing Up on Tour: A Family Portrait, Still Growing Up: Live & Unwrapped and Taking The Pulse: Live in Verona.
Anna has also filmed and directed documentary work for non-profit organizations such as Happy Hearts Fund and Delete Blood Cancer.
In November 2009, Anna and Hunter Heaney founded the non-profit organization, The Voice Project. The organization supports activist/artists and musicians worldwide and the freedom of expression through art.
More recently, Anna created the multimedia photographic portrait series, EyeD, featuring an unusual and intimate glimpse into the souls of Lou Reed, David Byrne, Brian Eno, Tom Petty, Paul Simon, Eddie Vedder, Susan Sarandon, and Johnny Depp by photographing only their eyes.
The European edition launched Q3 2021 and the North American edition launched Q4 2022. It has been featured in the Morrison Galleries in NYC, LA, and at the Alaia Foundation in Paris.