### Claire Attends an Education Seminar - Step 2 **By Marilucy Lopes, Manager of Education**
---
"I hope this will be helpful," Claire thought to herself. She had just registered for the Understanding Dementia Seminar with the assistance of a Helpline Specialist. Claire knew something didn't feel right about her husband, George, and after he was diagnosed with Mild Cognitive Impairment (MCI) Claire felt like she needed more information. After reaching out to CaringKind, a Helpline Specialist suggested Claire attend the Understanding Dementia Seminar: What You Need to Know and Where to Go. Claire was unsure about what lay ahead for her, her husband, their children and grandchildren. She wondered if the seminar would be applicable to her situation. Would it be helpful? Would it result in more questions? Nonetheless, Claire decided to take the opportunity to learn more about dementia and what CaringKind could offer.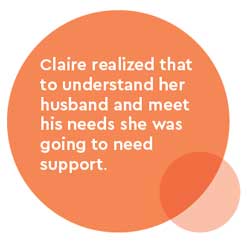 The night of the Understanding Dementia Seminar was Claire's first time at CaringKind. She was pleasantly surprised at how comfortable and inviting the space was. She settled into her chair and wondered what the relationship between her husband's MCI and dementia might be. The seminar began, and she listened carefully to the information the presenter shared. Claire learned about the differences and similarities between MCI, dementia, and diseases like Alzheimer's. She learned about the diagnostic process, disease progression, and medications for symptom management. Claire began to understand some of the issues her husband faced, and recognized behaviors the presenter referenced as being similar to George's recent behavioral changes. Claire also found herself agreeing with concerns other caregivers shared throughout the seminar.

"I guess I'm not the only person who needs help," Claire thought. As the seminar came to a close, Claire had many different feelings ranging from sadness and anger, to relief and clarity. Claire described feeling a step closer to understanding George. "I know he's been having a hard time managing the bills and gets confused with dates a lot, but I didn't understand why that was happening or what I could do about it," she shared with the presenter.

Claire realized that to understand her husband and meet his needs, she was going to need support and George was going to need more than just help with managing bills. Among many things, he would need legal and financial support in the form of a durable power of attorney and a healthcare proxy. Claire felt supported when she learned she could return to CaringKind for a Legal and Financial Seminar that would address topics such as power of attorney, health care proxy, guardianship, Medicaid eligibility, long-term care insurance and more. She felt even more supported when she learned there were several other educational seminars for caregivers. The Medicaid Home Care Seminar walks caregivers through the application process for Medicaid home care service, and the Placing Your Relative in a Nursing Home Seminar educates caregivers about the steps involved in nursing home placement, paying for care, easing the transition and becoming a successful advocate for the resident.

Claire also learned that CaringKind hosts a Monthly Educational Seminar with rotating topics based on concerns voiced through the 24-hour Helpline. Recent seminars have included topics such as: managing behavior, communication and dementia, home design for a person with dementia, oral hygiene, meal planning, and more. These seminars are suitable for both family and professional caregivers.

Claire felt relief when she learned CaringKind provides all their educational seminars, programs and services such as social work services, support groups, workshops and caregiver trainings, free of charge. She arrived home and called her children. She encouraged them to register for the Understanding Dementia Seminar, which they eventually did. Claire also shared information with George about CaringKind's Early Stage Center. Claire felt the Understanding Dementia Seminar helped scratch the surface of what the future held for her and her family. For the first time in a while, she felt a sense of direction and that CaringKind could help pave the way.

George and Claire's Journey continues on the next page...