Earlier this year, CaringKind announced the successful implementation of a new palliative care initiative for people with advanced dementia in three New York City nursing homes — Cobble Hill Health Center, Isabella Geriatric Center and The New Jewish Home.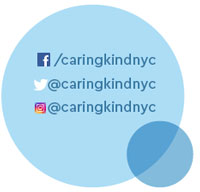 ---
Called Comfort Matters®, it was developed by Beatitudes Campus in Phoenix, Arizona and brought to New York by CaringKind which found funding for the project and coordinated the training, implementation and certification process.

News of the program was reported on hundreds of news and health websites around the country and was also the subject of an hour-long program on "Alzheimer's Speaks Radio" featuring Jed A. Levine, Executive Vice President, Director of Programs & Services.

As Jed noted, "Whether it's allowing residents to sleep until noon or giving them a favorite brand of frozen pizza at midnight, Comfort Matters puts the comfort of the patient first. This program is having an enormous effect on the quality of life in nursing homes." We're glad the media took notice!

CaringKind continued its outreach to caregivers in New York City's many diverse communities. New Chinese-language caregiver training programs and workshops, as well as our English-and Spanish-language Understanding Dementia seminars, were featured on more than 100 local events websites and calendars. CaringKind's dedication to meeting the needs of the Chinese-speaking community also inspired a Chinese Outreach Day and a Chinese Lunar New Year Celebration that received press in several well-read Chinese-language newspapers.

In a one-on-one, 30-minute radio interview with reporter Deb Gordon of WCBS FM 101.1, Fresh 107.2 and the CBS Sports Network, President & CEO Lou-Ellen Barkan discussed the impact of Alzheimer's and dementia on the lives of caregivers around New York City. The far-reaching interview focused on all aspects of CaringKind's mission and the importance of good care in the absence of effective therapies or a cure.

Lou-Ellen has also continued to get the word out to caregivers through her monthly column, "Care Chronicle," which appears in about a dozen local newspapers across the boroughs. Recent columns have focused on problems that affect the day-to-day lives of caregivers, including wandering and fraudulent schemes targeted at seniors.

As Lou-Ellen wrote, "Senior citizens are particularly vulnerable when it comes to the seemingly endless array of scams, schemes, and frauds prevalent today. If an older person is also coping with Alzheimer's or dementia, the odds of being duped by a devious claim or offer increase exponentially. The best way to avoid falling victim to a fraudulent scheme is by being well-informed."

Also bringing attention to the growing issue of fraud against seniors was U.S. Senator Kirsten Gillibrand who invited Lou-Ellen to participate in a "round-table" press conference on the need for protective legislation. CBS2-NY, FOX5-NY, NY1, and News 12 all covered the event.

The New York Nonprofit Media reported on the appointment of Brenda Green as our new Staten Island Outreach Social Worker. Brenda, a longtime Staten Islander, is spearheading CaringKind's Island-based social work services and introducing us to other local service providers.

CaringKind's Senior Vice President of Caregiver Services, Matt Kudish, was featured on the Broadway World website for his expert perspective in a post-performance discussion following the play The Mother of Invention. Showing at the June Havoc Theater, the play focused on one family's Alzheimer's journey.

Finally, CaringKind continues to work closely with local media to assist when any person with Alzheimer's or dementia wanders and becomes lost. Through our partnership with MedicAlert® and our contacts at local TV news stations and print outlets, the MedicAlert® NYC Wanderer's Safety Program was able to bring public attention to these cases and contribute to the safe return of several missing persons over the past few months.