Dear Friends of CaringKind,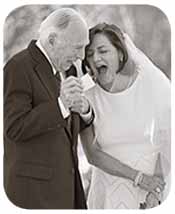 It was my wedding day. I married late in life to a wonderful man whom I had dated in my 30s and who came back to find me as I turned 50. My siblings and I had lost our mother ten years earlier. Being the only unmarried child in the family, I had the joy and ability to spend lots of time with my father. We supported each other through numerous joys and disappointments.
Dad has been a man of great humor with a strong moral code that he instilled in us and challenged us to uphold. He worked for IBM for 33 years and was an active sailor, skier, and long-distance walker until age 79. He is now 85 and lives on Long Island in the house where our family gathers in the summer. He was a daily churchgoer until about 12 months ago when we took the car away. Then one day we found him sitting on the front porch at 3 AM waiting to be picked up by his friends for an 8 AM mass.
When we look back the signs of dementia probably started showing around 2012, several years prior to my wedding. Every week you would think this cannot get any worse. Then there it was — another odd, non-customary action that appeared as Dad struggled to keep his life together and tackle each day.
This photo was taken on my wedding day. Dad walked me down the aisle, a memory I will always cherish. Then, as the photographer gathered the family together, Dad pulled a little note out of his pocket. On it was written, "Dana," my husband's name. Dad was determined to not forget Dana's name on my important day. Oh, how we laughed and laughed together. At the wedding, my Dad was not able to deliver a toast; however, he did stand with my brother, who spoke the words they had worked on together: "Dana, you are in for a treat!"
Dementia has now overtaken most aspects of Dad's life. He no longer has notes in his pocket, can dial the phone, or understand the calendar or concept of time. These are all gone. His caregiver, Suzette, is our lifesaver. We, his children, could not continue our active lives without her. Her knowledge, compassion and caring for our father is priceless.
But Suzette does not approach caregiving alone. She has CaringKind's 24-hour Helpline to support her every step of the way. When Suzette feels overwhelmed or has questions about a challenging behavior, the dementia experts at CaringKind are just one phone call away. These licensed social workers and Helpline Specialists have been specifically trained in dementia care, and draw upon more than thirty years of expertise in the field. Through the Helpline, Suzette has learned about dementia, and how to care for Dad with confidence, and this has provided peace of mind for our family. And whether Suzette calls the Helpline once or many times, this life-saving service is free of charge.
My heart breaks for Dad, but we love him dearly and we know that he loves us. Although his verbal skills have declined, he said to me last month, "You know I love you, Margot." We can't cure Dad's dementia, but we can do the next best thing. We can ensure that Dad has the best care possible and a good quality of life. We would be lost without Suzette, but knowing that Suzette has CaringKind's expert staff to support her has made all the difference in our lives, too.
I share my story so that no one has to face dementia caregiving alone. A call to CaringKind provides a connection to caring professionals who will listen and provide confidential guidance, as well as referrals to a host of programs and services, such as support groups, social work counseling, family caregiver workshops, or education and training seminars.
Please join me in making a charitable gift to CaringKind. Your contribution ensures that CaringKind is here for you, your family, neighbors and friends if and when you need them. Thank you.
Sincerely,

Margot Carr