Walking Home Together: A Support Group Leader's Continuing Journey
By Lorraine Ruggieri, LMSW
---
For the past quarter of a century I have known no other death other than death by dementia. As the facilitator of a support group for 25 years, I have been there with over 100 caregivers who stood at the threshold between life and death, who completed the journey with their loved one and walked them home. For over 1,000 sessions, I have listened, hugged, held hands, comforted and shed tears as they undertook the prolonged agony of gradually saying goodbye.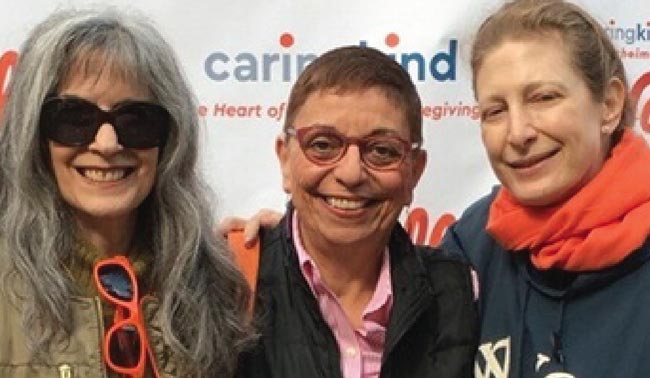 Lorraine (far left) as team captain of Wednesday's Adult Child with caregivers Elaine Cobos and Alexandra Sobell at the CaringKind Alzheimer's Walk 2016.
How did this come about? Twenty-five years ago I myself first became a caregiver. I walked into the office of CaringKind (then known as Alzheimer's Disease and Related Disorders, Inc. and, later, the Alzheimer's Association NYC Chapter) seeking understanding and help for my father, who had been diagnosed with a disease so little known that it was often referred to merely as "what Rita Hayworth had."
I originally came to CaringKind, not in search of a support group, but to buy a book, The 36-Hour Day (still considered a how-to guide and primer for dealing with dementia). Newly married at that time and trying to maintain my small business as a fashion designer, I found myself in an overwhelming state of dismay and chaos because of the demands of my father's illness and my mother's failing health. After buying the book, I was invited to join a support group. What's that, I wondered? Wasn't it my father who needed help, not I? But I quizzically attended my first meeting, showing up with spiral notebook and pen under the assumption that I was taking Alzheimer's 101. Only subsequently did I discover that the support group was for me, the caregiver!
At that time, there weren't as many services as there are now. It was a fledgling, grassroots organization with fewer than a dozen staff and numerous volunteers, most of whom were or had been caregivers. It was a place to go to where others understood the physical, mental and emotional deterioration of the sufferer and the caregiver. The original logo was of two figures close together, which I subtitled in mind: the journey, walking home together. There was always someone to talk to, the helpline was manned by volunteers who used their home phones on weekends to answer harried calls. It was a place where you could get information, some general legal advice and understanding. And there were the support groups. For me, this became my haven.
I vividly remember the comfort I received from others in my group when I talked about my father's hospitalization when, confused and combative, he pulled all the IV tubes from his body. When I visited him, his hands were tied to the bedrail (this was before physical restraints were not permitted). He looked at me and said: "Untie me, Lorraine, I'm not an animal." Then there was the bittersweet moment when I visited my mother at home. To help her emotional state, I designed and made dresses for her. When I arrived, I found them hanging all over the house on various doors and moldings. When questioned, she explained: "I want to look at them, like paintings."
Yes, she too suffered from dementia. But over a decade had passed since my father's death and I had already embraced the challenge of dealing with this relentless disease. I had trained and became a support group leader and pursued further education to acquire a master of social work. CaringKind had grown as well: support groups numbered into the hundreds; a website was created; a 24/7 helpline was staffed by professionals; educational programs, training programs and partnering with other organizations were developed.
When my mother died we were holding hands; another journey completed. Soon after her death I became a licensed social worker. Throughout my academic studies, work experience and designing, I always arranged time to lead my support group. I have continually sought to hone my skills and empathy as a support group leader. CaringKind has been my touchstone because I still consider myself a caregiver for other caregivers. I hope that I have learned to listen, to be authentic, and to encourage others to find their strengths and appreciate the good moments. I also hope that I have been able to bring these resources into all my relationships, as I continue in my role as a support group leader for CaringKind, helping others to continue the journey, walking home together.
Lorraine Ruggieri, LMSW, ASW-G continues as a volunteer support group leader at CaringKind while working as a learning specialist/academic coach at Marymount Manhattan College. When time permits, Lorraine designs concert gowns for performing artists who have remained clients from her previous profession as a fashion designer. Contact Lorraine: lorraine.ruggieri@gmail.com.