### George is Enrolled in the MedicAlert® NYC Wanderer's Safety Program - Step 5 **By Elizabeth Bravo Santiago, Director of Wanderer's Safety Program**
---
On December 19 at 5:30 a.m., MedicAlert® received a call from the New York City Police Department Missing Persons Unit. A man by the name of George was missing from his Brooklyn home. His wife, Claire, had notified authorities that his wallet with identification was left on their kitchen table. George was out there alone with no way to identify himself. The MedicAlert Emergency Response Team searched the national database, but his information was not in the system. A "Missing Person Not Enrolled" report was immediately generated with pertinent information about George: name (George), gender (male), age, physical description (5' 10", 165 lbs., medium build, brown eyes, salt and pepper hair), address (lives near the intersection of Altantic and Washington Avenues in Brooklyn), primary language (English) and the clothes he was wearing (blue pants, black coat, hat, shoes, and beige over-the-shoulder satchel).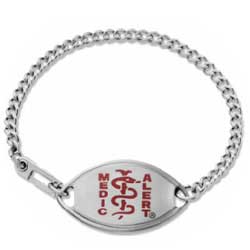 The police department confirmed they had canvassed the area around his home and the surrounding hospitals and there had not been any sightings of George. The police department granted permission to send out a missing person bulletin.

As per our protocol, the MedicAlert® NYC Wanderer's Safety Program received a call from our partners at MedicAlert® informing us that we had a missing person who was not enrolled in the program. I asked for the report to be emailed so that I could follow up with the family. The holiday season was in full swing with busy city streets and very cold temperatures. I was concerned about George's safety.

I picked up the phone and called George's wife. I introduced myself and informed her I would be working with the police department to help locate her husband. Although this was a difficult time for Claire, and she might not be thinking too clearly, I needed to ask some follow-up questions to ensure we had all the information about George we needed. Through that questioning I learned that George was a veteran and former employee of the United States Postal Service. He had worked as a mail carrier in the Bronx, Brooklyn, and Manhattan until he retired several years ago. Claire confided in me that she was feeling very guilty because she procrastinated and never enrolled George into the Wanderer's Safety Program. With the history Claire provided she helped me better understand George and where he might be heading.

I asked Claire's permission to send a Missing Person bulletin to the media: TV, radio and newspapers. She readily agreed and asked her daughter to email me a photo of her father from her iPhone. I started to send out missing person bulletins throughout the five boroughs and Long Island. Our social media department also posted the information on Facebook and Twitter. Lastly, the public relations firm we work with quickly got the story and photograph out to the media.
It was getting dark and cold outside and snow was in the forecast for later that night. Claire's family was getting progressively worried and concerned about George's well-being. After the first 24-hours, everyone became extremely worried and anxious. Time was of the essence.

On December 24, a social worker from North Shore Hospital in Valley Stream was informed by a colleague that NY1 aired a report about a missing person who had gone missing three days earlier. The person's name was George and fit the description of a patient who had been admitted to her unit three days earlier. It was in fact the same George and he had been admitted to North Shore Hospital through its emergency room late on the evening of the day he left home, December 19. He was found walking along the expressway. George was admitted with a diagnoses of dehydration and frost-bitten fingers. Thankfully the nurse had written down the number to call provided by the news anchor. The hospital called us and we were informed of George's whereabouts. We were going to be able to reunite George with his family!

During my follow up with Claire we quickly enrolled George in the Wanderer's Safety Program to be prepared for any future wandering incidents. I suggested that she speak with one of CaringKind's social workers to help create a long-term plan for his care.

George and Claire's Journey continues on the next page...