Health Care Outreach
---
The Healthcare Outreach program continues to educate healthcare professionals in New York City about all our programs and services. At CaringKind, we recognize the important role pharmacists play in the lives of families affected by an Alzheimer's or dementia diagnosis. Pharmacists have always been a trusted source when it comes to patient education, and because of that, we've developed our CaringKind Pharmacy Card, an easy way for pharmacists to connect the families they serve to our vital programs and services. Connecting families to CaringKind is as easy as inserting the card in the prescription bag of anyone on an Alzheimer's or dementia related drug.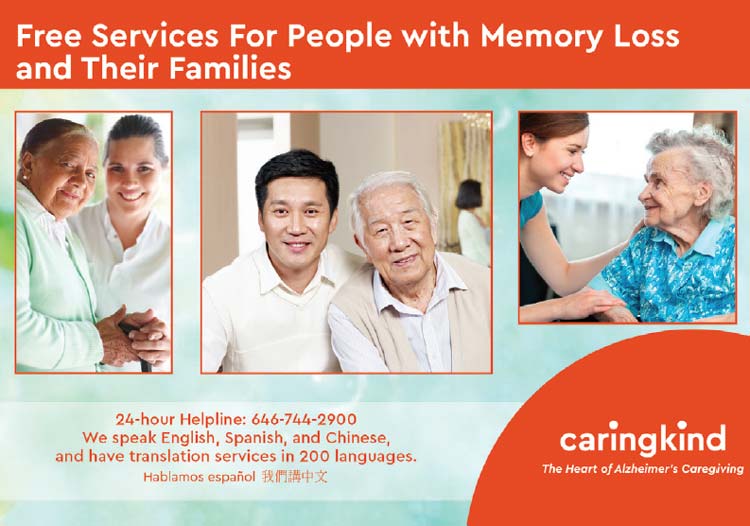 We view our relationship with pharmacists in New York City as a partnership, working together to provide the best care and connection to resources for families dealing with this devastating disease. We also work with pharmacies to develop in-store events, informational displays and training for staff.
If you would like us to reach out to a particular pharmacy in your neighborhood, please email Niurqui "Nikki" Mariano at nmariano@caringkindnyc.org or call 646-744-2969.
Innovation Spotlight
Recently CaringKind collaborated with the Pratt Institute School of Design on a project in which students of the Industrial Design Department met with people with dementia, family and professional caregivers, and CaringKind staff to learn about the challenges of living with dementia and providing dementia care. The students, inspired by these meetings, designed 25 prototypes, several of which are showcased at The Cooper Hewitt Smithsonian Design Museum's Access + Ability exhibition.
Francesca Suman, a Pratt student involved in the project, shared her creative process with us:
When learning about Alzheimer's disease and other dementias from the caregivers at CaringKind, several things immediately struck me. First, the unpredictable nature of this disease, and secondly, how much caring for someone with Alzheimer's disease affects life at home. What might normally be a quick, mundane activity like changing clothes or brushing teeth can become an afternoon-long battle. With these observations in mind, I began exploring ways to bring joy to these tasks, both for the individual living with dementia and the caregiver. I began thinking of "universal" feelings of happiness. Pleasure from winning prizes and receiving presents came to mind as things that are universal across ages and cultures. Thus, Gift Anew was born: a collapsible, reusable water-resistant box that brings a little happiness to the routine. Suddenly when a caregiver presents the person's toothbrush in an attractive gift box, teeth brushing becomes a lot more enjoyable! The magnetic bows and easy assembly also allow for the caregiver and individual to wrap presents together for children or friends.