Dear Friends of CaringKind,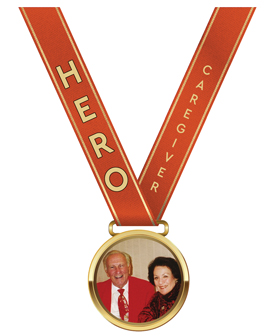 In 2018 CaringKind celebrates the "Year of The Hero". **As an important member of our community, I invite you to remember and recognize the heroes who have faced the challenge of caring for someone with Alzheimer's or a related dementia**. As a former caregiver, I know these financial, emotional, social and physical challenges well. But it wasn't until I took on the role caring for my mother, that I truly understood the sacrifices she had made at the end of her life to care for my father. She is truly my hero.



My father's dementia progressed over a twelve-year period, during which my parents moved four times. Each of these moves was intended to allow my father to stay at home with 24-hour care, much of which was provided by mother. As my father's behavior became harder to manage, my mother got creative. To ensure that he didn't wander out of the house while she was sleeping, she put giant cowbells on the doorknob. That way, even if it was 3AM, she could catch dad before he wandered off.

Mom's grocery list increasingly included dad's favorite foods; applesauce, banana bread, oatmeal. None of which she ever ate herself, but all of which she lovingly fed him three times a day. Getting dad to the doctor was no picnic, but Mom, who was 5'1" and 115 pounds, somehow managed to get this giant of a man into the wheelchair and into the car. Her bravery and strength in this period was truly heroic. Needless to say, all of this took a toll on her health and well-being.

Many years have passed. Both mom and dad are no longer with us, and thankfully, we have happy memories of both. But as I look back, I'm reminded how much easier things would have been for mom with the assistance of a CaringKind social worker and access to our programs and services. She would have had a Wanderer's Safety Bracelet to put her mind at ease in case dad wandered. She would have had information and referrals for financial planning, home care services and, eventually, long term care, all of which, she had to work out on her own. And she would have joined a support group to help her through the journey.

When dad died, my parents had been married over sixty years. Thanks to mom's dedicated loving care, dad's passing was peaceful and pain free. Mom had made caring for him her first priority and it wasn't until he was gone that she took a deep breath. By that time, her own health had been compromised and I took over her care. It was only then that I understood how
hard she had worked and the sacrifices she had made to care for dad and to keep the burden from me.

It's late now to offer thanks, but I can use the opportunity to recognize and remember her heroic efforts and remind our community how many heroes there are doing this difficult job all across New York City.

I am asking you to consider making a gift of $100 today. While you are making your gift, I would like to encourage you to share a story about yourself or the hero in your family.

So, this year, please remember and recognize a hero in your life and ensure that CaringKind can continue to provide the programs and services we need to serve all who need them. In this way, we can honor those we love and encourage others to share their heroic stories.

Lou-Ellen Barkan