The Forgetting: 15 Years Later
James Campbell

James Campbell is a freelance writer based in Brooklyn. He holds an MA in International Affairs from The New School and has written for various academic and human rights organizations, including the Anti-Trafficking Review.
---
![](/content/images/2016/08/ce.jpg) *Jed A. Levine moderates the discussion between actor and Alzheimer's advocate David Hyde Pierce, author David Shenk, and caregiver Rachael Bachleda.*

In the 2004 film The Forgetting, author David Shenk boldly declares that "We are at the end stage of the war against Alzheimer's." While progress has been robust, this is not the case today. What is certain is that until a cure is found, caregivers will continue to play a critical role in caring for persons with the disease. On May 2, CaringKind brought a panel of experts, Mr. Shenk included, to the Times Center in New York City for A Conversation with David Hyde Pierce & David Shenk: The Forgetting 15 Years Later, the 4th Annual Charles Evans Lecture on the Art and Science of Caregiving. The panel discussion provided keen insight into caregiving's history and scale, from ancient times to the present, from personal experiences to national and global policy.

Following welcoming remarks from CaringKind's Board Co-Chair Benjamin Jenkins, Lou-Ellen Barkan stressed the organization's role as a place "that sees individuals and not a disease." Jed A. Levine guided the panel of advocates and experts: David Hyde Pierce, David Shenk, and Rachael Bachleda.

David Hyde Pierce is a Tony and Emmy Award-winning actor. Along with his eminent acting career, Mr. Pierce is a staunch advocate for Alzheimer's care and research and received the 2010 Tony Awards' Isabelle Stevenson Award for his work.

David Shenk is the award-winning and bestselling author of The Forgetting. Mr. Shenk is a spokesperson on Alzheimer's and has advised the President's Council on Bioethics on dementia-related issues. He is a special advisor to the Cure Alzheimer's Fund and he is the creator of the Living With Alzheimer's film project.

Rachael Bachleda came to CaringKind ten years ago when her mother was diagnosed with Alzheimer's. She is a member of CaringKind's Junior Committee and is a five-time participant on the Athletes to End Alzheimer's® New York City Marathon team.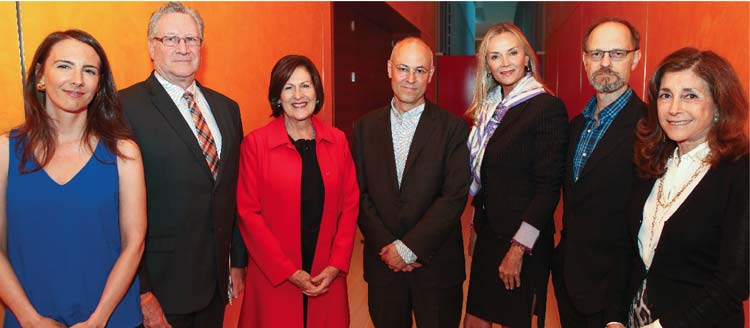 From Left: Rachael Bachleda, Jed A. Levine, Lou-Ellen Barkan, David Shenk, Bonnie Pfeiffer-Evans, David Hyde Pierce, Alice Shure
Mr. Shenk began by reflecting on a conversation he overheard that led him to research the long history of Alzheimer's and "tell the story of the disease as you would the biography of a person." This story, said Mr. Pierce, "is like the disease itself," in that "it is intensely personal and at the same time the battle against it is global."
David Hyde Pierce's work with the National Alzheimer's Project helped to identify a major victory of this global battle: people are confident in voicing the idea that they are living with Alzheimer's, not dying of it, essentially saying "don't count me out yet."
Ms. Bachleda intimately described the personal perspective, sharing the details of her father's transformation into a caregiver, as well as her own. In particular she highlighted the importance of support groups in helping her cope with the "unique experiences" that caregivers face.
Alice Shure and Bonnie Pfeiffer-Evans, trustees of the Charles Evans Foundation, stated during their opening remarks that though the stigma around Alzheimer's has faded, the "around the clock, demanding, and mostly thankless" role of the caregiver remains. The question is what kind of person does it take to fill this role? Ms. Barkan summed it up neatly: "It takes the courageous kind, it takes the listening kind, it takes the loving kind, it takes the caring kind."