5th Annual Gathering for People with Early Stage Memory Disorders
Lonnie Nemiroff

Early Stage Center Social Worker
---
The 5th Annual Gathering for People with Early Stage Memory Disorders marked my first day on the job as an Early Stage Center Social Worker. It was an exciting and memorable start to my career with CaringKind, and a unique opportunity to begin getting to know staff and, most importantly, the Center's participants.

The Gathering, held on May 20, was attended by 50 people with a diagnosis of early stage dementia and their group leaders. Two early stage support groups traveled from Stamford, CT and Newburgh, NY to join our Early Stage Center participants for the event. As people arrived, smiling and greeting one another, it became evident to me just how special this day was for them. Throughout the event, participants met new people, conversed with and learned from one another, shared their experiences with memory loss, and simply enjoyed themselves.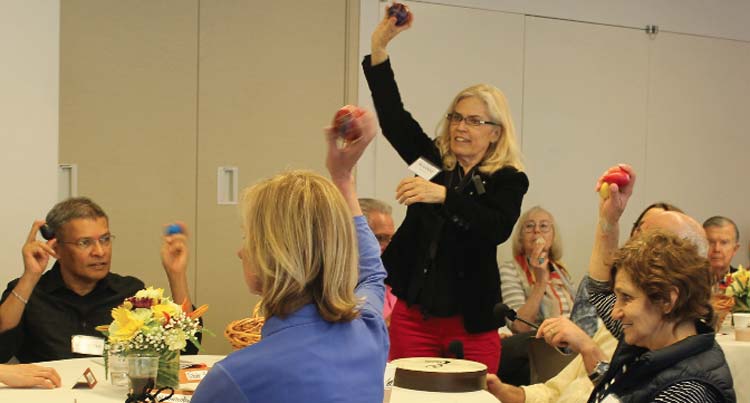 Participants sing and play percussion during the afternoon session of The Gathering, called Connecting with Your
Musical Self and led by Suzanne Tribe.
The Gathering started with a light breakfast and warm welcome from Lou-Ellen Barkan. The morning session, entitled Here's Your Chance!, was led by Dr. Warachal E. Faison, geriatric psychiatrist and Medical Director of Women's and Men's Health at Pfizer. The session provided participants with the unique opportunity to talk candidly with a doctor about dementia for an extensive period of time. Dr. Faison answered numerous questions, covering an array of topics surrounding dementia, such as the latest on research, medications, disease progression, and nutrition. Dr. Faison also highlighted the importance of maintaining an active lifestyle, socially, physically and mentally, when in the early stage of dementia. Dr. Faison utilized an interactive approach in her discussion about changes in the brain, which made the conversation even more stimulating and less abstract.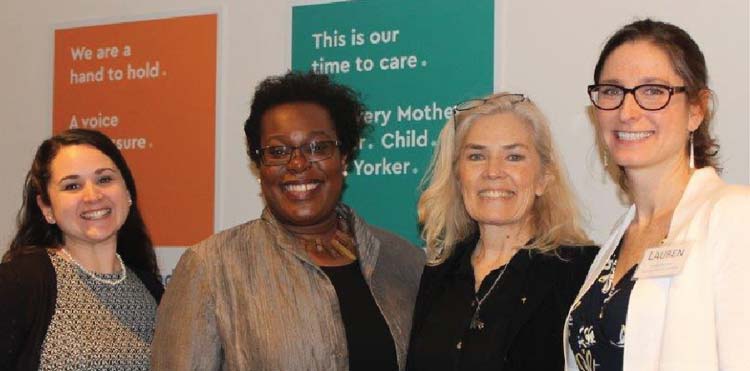 From left: Manager of Early Stage Center
Maria Mursch, Dr. Warachal E. Faison, Suzanne Tribe, Director of Early Stage Center Lauren Volkmer
After the morning session, participants enjoyed a delicious lunch, chatted, laughed, and got to know one another better. The afternoon session, entitled Connecting with Your Musical Self, was the highlight of the day. Board-certified music therapist Suzanne Tribe began by briefly discussing the history and purpose of music therapy, as well as settings where it is used. Suzanne then led a musical guided meditation and relaxation, which reminded everyone why it's important to focus on their breathing in times of stress. She then handed out small percussion instruments to anyone who wished to play them. As Suzanne led the group in such songs as "What a Wonderful World" and "This Little Light of Mine," participants played their instruments, sang along, and even danced! Afterwards, people shared the sense of happiness, tranquility, and enjoyment they felt as they participated in this workshop. One client noted the positive effect that music has on her mood. Another client was so inspired that he bought his own drum to play at home.
As Suzanne played her final song of the day, people sang and danced on their way out, bringing the 5th Annual Gathering to a close on the highest of notes. All in all, the Gathering was a success and so, too, was my first day as an Early Stage Center Social Worker. I am looking forward to not only attending the Gathering next year, but also being a part of the team to plan it.