A Caregiver's Journey
Jessica Gonzalez

Junior Committee Social Media Chair
---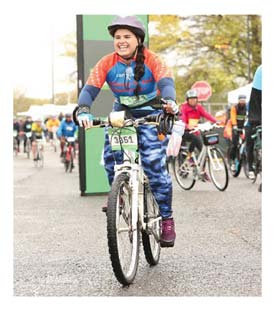 In hindsight, we noticed my mother's symptoms years ago. She began telling a story that was impractical and implausible. The story involved her coming with me to my high school friend's house traveling by bus, but my mom hated public transit with a passion. Over time other symptoms manifested: forgetting how to get somewhere, forgetting to cook dinner, forgetting the zip code we've had for over 30 years.
Finally in 2014, after asking the doctor to test her for years, we finally went with her to the appointment. She failed her cognitive test completely, and we now had a name for her condition: Alzheimer's. After a confirmation from a neurologist, we were sent home to live life without any recommendations, not even an information packet.
The first time I called CaringKind (then the NYC Chapter of the Alzheimer's Association), my mom had yelled at us and stormed out of the house. That day, through the Helpline, I signed up for my 10-hour Family Caregiver Workshop. I was the youngest person in my class, and only one of two participants in the group who were caring for a parent. It was a wonderful introduction to the nuts and bolts of a disease that would become a dominating force in my life.
After I tested the waters, my father completed the same workshop with CaringKind at a location in Brooklyn. Together, with our newfound knowledge, we enrolled in two studies that we found through CaringKind. Mine was an online course on how caregiving affects a caregiver, and his was an in-person session with a researcher from the study, operated out of Columbia University, which was designed to help Latino families understand how the disease would affect their loved one and learn how to keep their loved one comfortable and engaged as the disease progresses.
In January 2015, I found the Junior Committee. What surprised and saddened me was seeing how many young people had already lost a parent to Alzheimer's or dementia and how many were in the process of losing them. Having already used the services of CaringKind, I knew that whatever fundraising events we did or advocacy trips we took actually impacted lives. That spring I accompanied CaringKind staff, caregivers, and three other Junior Committee members to Washington, D.C. to advocate for more fundraising dollars to meet federally identified goals. It was an intense experience, seeing so many affected caregivers and contemplating the impact this disease had on everyone around me. The emotional toll of this disease is enormous, but the full economic and financial impact of this disease has not reached its peak.
On May 1, 2016, I rode the TD Five Boro Bike Tour in support of CaringKind. The temperature reached a high of 50 degrees and rained the entire 40 miles. I finished those 40 miles frozen and soaked, but happy to have met my fundraising goals and know that for over 40 miles, I helped raise awareness of CaringKind and its mission.
Throughout this long goodbye, one person that should not be forgotten is my mother and her personality. She still has her spirit that makes her a unique individual, and while she cannot perform many activities independently, she still has her creativity. I started an Instagram account, @hildaalznails, just to keep up with her nail decorations, but it has evolved into so much more. Through Instagram we tell the story of her journey, both the good and the bad. We have also joined a larger online community that is raising awareness about Alzheimer's and dementia and breaking down the walls of silence that have surrounded this disease for so long. CaringKind is a strong advocate in this fight, helping to support those afflicted with these diseases and those who are caring for them.
If you're interested in learning more about the Junior Committee please visit our website at caringkindnyc.org/juniorcommittee. If you or someone you know would like to join the committee please email alznycjc@gmail.com.