Support Group Leader Appreciation Breakfast
Abigail Nathanson

Director of Support Groups
---
In my support group, a new member had been struggling with caregiving on her own for years. She shared at the end of her first meeting that hearing from the long-standing group members gave her a lot of hope to know that she can survive this and that there are people who will help her do so. Every year, the Support Group Program helps to facilitate over 2,300 caregiver support group sessions across the five boroughs, with hopeful moments like these happening every day. I am so grateful to the 80-plus volunteers and partners in our program who help to make it happen.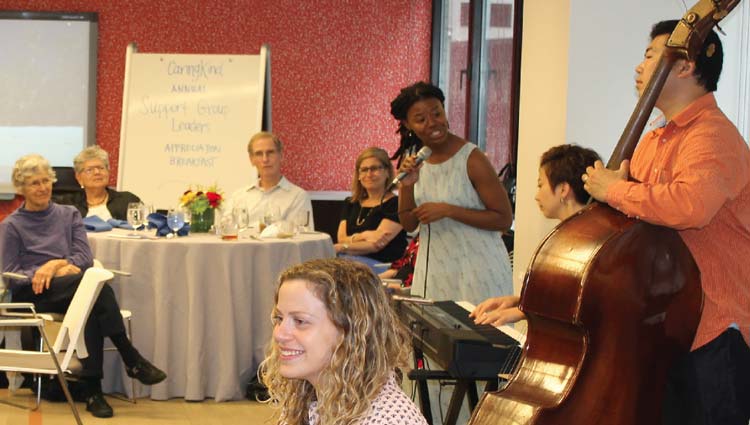 Support group leaders enjoyed music by a jazz trio.
CaringKind is proud to support the thousands of hours of work that our volunteers and co-affiliated agencies provide, with training, supervision, referrals and ongoing guidance. One of the most fun ways we try to give back is with our annual Support Group Leaders Appreciation Breakfast. This year, we had a beautifully catered breakfast on June 3 at our Program Center, with speeches, gifts and a performance by a jazz trio that had our volunteers tapping their toes! This year's event was generously funded by the Junior Committee. We cannot thank them enough for their support.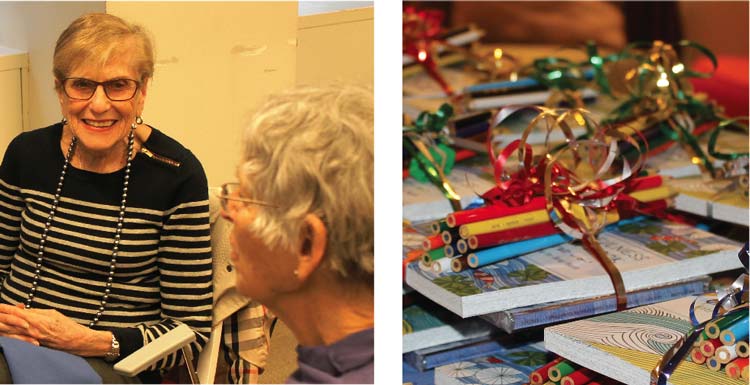 Left: Long-time support group leaders June Aaronson and Ginny Abrams.
Right: Self-care gifts included a meditation CD and mindfulness coloring book with colored pencils.
If you're interested in learning more about joining a support group or becoming a support group leader, please give us a call on our 24-hour Helpline at 646-744-2900. We'd love to talk to you.