New Balance App Designed for Alzheimer's Caregivers
By David V. Pomeranz, Chief Operating Officer of
RiverSpring Health
---
by David V. Pomeranz Chief Operating Officer of RiverSpring Health

Download from the Apple App Store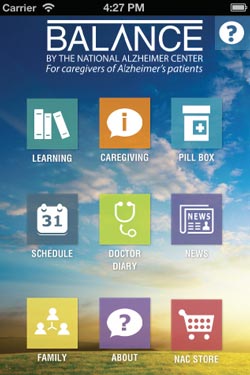 We are living in a time when mobile phones and tablets are information hubs for everyday life. Need help? There's an app for that. When it comes to caring for someone with Alzheimer's, the latest in technology is a welcome friend to manage a stressful and often chaotic time. And when there are multiple caregivers in a family, often living many miles apart, it is even more important to communicate any time, anywhere in real time.

A newly redesigned app by the National Alzheimer Center (NAC) and CaringKind is an ideal tool to help caregivers manage the complexity of caring for a loved one with the disease. Whether tracking changes in behavior or managing multiple doctors' appointments, the Balance app easily organizes information and serves as a resource.
Balance app icons include:
24-hour Helpline: Caring and compassionate staff from Caringkind are just one click away 24/7 to answer any questions, provide support and reassurance.
Learning: Learn everything you need to know about living with Alzheimer's – from getting diagnosed, to learning about the stages of the disease, to understanding how to effectively care for someone with Alzheimer's.
Caregiving: Caregivers have the toughest job on the planet! This section provides helpful tips and information about daily caregiving – from bathing and hygiene to dressing and handling agitation.
Pill Box: Manage daily medications by inputting medication names, dosing schedule, and refill dates and getting notifications on when to provide medicine to your loved one.
Schedule: Effectively manage your loved one's schedule – share calendars with other caregivers' calendars.
Doctor Diary: Track changes in mood, activity, memory and other behaviors and share directly with your doctor in real time. No more waiting for your next doctor's visit to share essential updates.
News: Practically everyday there is a new development about Alzheimer's. Always stay on top of these breakthroughs, latest news and information about Alzheimer's to keep up with research, treatments and other developments.
Family: Connect with other family members for sharing calendars and working together to provide complete care for your loved one.
About: Learn about NAC and Caringkind.
NAC Store: Find the latest books, medical devices, vitamins and other essential Alzheimer's products and services to purchase.
MedicAlert® NYC Wanderer's Safety Program: MedicAlert® Foundation provides protection through a national emergency response service for individuals living with Alzheimer's disease and related dementia who wander or have a medical emergency. With 60% of persons with dementia at risk for wandering and becoming lost, the MedicAlert® NYC Wanderer's Safety Program activates a community support network when a person with dementia is reported lost or is found in the community. The network, including law enforcement agencies, work to help reunite the person who wandered with the caregiver or a family member.Enrolling in the program has never been easier.
Together We Care™: TogetherWeCare.com was created to bridge the gap between aides who have completed the CaringKind Dementia Care Training for Professional Caregivers and families seeking to hire trained aides to provide care. Aides who have completed CaringKind's training are afforded the opportunity to create a profile and families are able to view, search profiles and post a job ad.
The Balance app is available for 99 cents on the App Store.
Caring for a loved one with Alzheimer's is all about balance. We created this app because an Alzheimer's patient typically has multiple medications, multiple caregivers, and multiple doctors all juggling many responsibilities at once. This app will help you manage better.
The National Alzheimer Center, a division of the Hebrew Home at Riverdale, was formed in 1986 to better understand, treat and advance care options for Alzheimer's and dementia. The Hebrew Home at Riverdale is part of RiverSpring Health, a non-profit senior care organization that cares for over 12,000 older adults throughout the New York metropolitan area through managed health care, assisted living, housing, rehabilitation, community programs, home health care and its internationally recognized nursing home. Follow NAC and the Hebrew Home at Riverdale on Facebook at www.facebook.com/hebrewhome or on Twitter @RiverSpringHlth.