### Connecting Professional Caregivers to the Families Who Need Them **By Amy Torres, Director of Training**
---
Most individuals that receive a diagnosis of Alzheimer's disease or dementia, at some point, will require the assistance of a professional caregiver at home. Friends and family members supporting someone with cognitive impairment may feel overwhelmed at the thought of having to hire and introduce someone new into the home. Not only is hiring a professional caregiver a sign that the person's deficits may be increasing but the introduction of a new individual in the home may be simply too overwhelming for the person struggling with the disease. The process of finding someone suitable for the person with dementia's needs is understandably daunting and, for many, fraught with worry.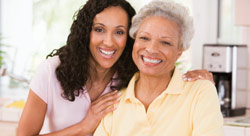 CaringKind understands that people with dementia require a skilled caregiver, one who understands the range of diseases that can cause cognitive impairment; a caregiver that is willing to be flexible and can exercise patience, that has a high level of tolerance for the variety of behaviors that may crop up, and is willing to validate the person with dementia's feelings even when they don't understand them.

Our Dementia Care Training Program for Professional Caregivers (DCTPC) has been training home health aides, certified nursing assistants, personal companions and other direct caregivers for over 25 years in best practices for dementia care.

A frequent misconception when hiring a professional caregiver is assuming the individual has had training in dementia care. Most seasoned caregivers learn about dementia and how to manage behaviors through trial and error. Professionals that want to expand their knowledge must seek out training courses on their own. When accessing home care through an insurance program, friends and family members often do not get to choose the caregiver sent by the agency. This makes it even more difficult to find a knowledgeable caregiver who suits the person with dementia and the household.

In an effort to connect graduates of our professional training program and friends or family members looking to incorporate a private pay, professional caregiver into the home, CaringKind created a website called Together We Care™. This networking website is an opportunity for DCTPC graduates who are looking to put their learned caregiving skills into practice and connect with friends and family members looking for those skills.

Friends and family members seeking to hire a DCTPC graduate can register with the site and create a job posting that highlights the skills, hobbies and scheduling in which they are interested. Professional caregivers create a profile and then have an opportunity to not only highlight their work experience but also speak to who they are as a caregiver and with whom they prefer to work. When browsing profiles, friends and family members can also filter by availability and scheduling, language, transportation capabilities and additional degrees and certifications.

Home care is a very personal service and Together We Care is a resource that seeks to connect people on a meaningful level; one that acknowledges caregiving for a person with dementia is so much more than the clinical tasks taught in schools. It involves the connection of the right caregiver for the person with dementia.

For more information, please call our
24-hour Helpline at 646-744-2900.