2018 Athletic Events
Jessica Gonzalez
Director of Constituent Events
---

Dear Friends,
Spearheading our 2018 events, on Sunday, March 18, were the dedicated athletes who ran in the United Airlines Half-Marathon and braved temperatures below freezing. Training was hard due to a long winter, but over 30 athletes, including Team Otsuka of Otsuka Pharmaceuticals, donned their CaringKind shirts and raced the 13.1 miles on a new course ending in Central Park. The course began in Brooklyn, at Grand Army Plaza, and sent runners across the Brooklyn Bridge, through lower Manhattan and then north on the FDR Drive until 42nd Street. These Athletes to End Alzheimer's raised $64,000. Thank you!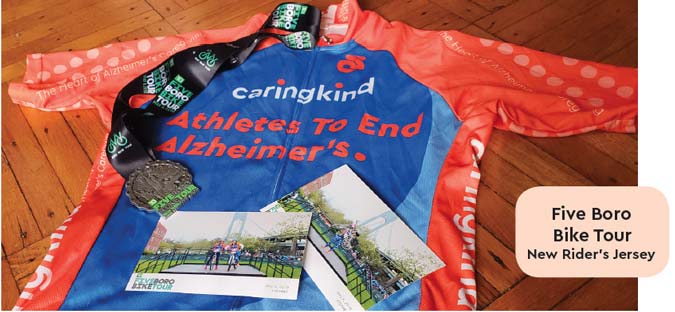 Next was the TD Five Boro Bike Tour. In the early morning of May 6th, CaringKind's team gathered to warm up and motivate each other before the race. Our team consisted of new bikers like Nais, Benny, Wiley and Karina and some familiar faces. Riders like Gordon Linton, Alex Cuesta and Carlos Cueto have been riding with us since 2013 to show their support for CaringKind's work. Gordon even persuaded a reporter from News12 to interview him, so he could explain why CaringKind and Alzheimer's are so important to him! The rain held off and our riders set off from lower Manhattan to begin their 40-mile journey. The CaringKind bike jersey was a great conversation starter and this allowed our riders to share their stories with fellow riders. These Athletes to End Alzheimer's raised $23,000.
Only one week later, TackleAlz NYC took to a new field having already raised a record amount to support CaringKind's programs and services. Columbia University's Lawrence Wien Stadium served as the battleground for the 8th annual TackleAlz game. Both teams worked together to make 2018 a truly successful year in fundraising, heading into the game with a total of over $200k! And, for the third consecutive year, Blondetourage was able to surpass their goal of #100KbyGameDay. Also, this year the players were able to have the initials of the person they were playing for printed on their sleeves to keep that person close to them as they played to Tackle Alzheimer's.
The biggest challenge to game day was the weather. Lightning was predicted for late afternoon, so to stay safe our players and coaches agreed to move the start time four hours ahead.
The BruCrew received the first touchdown about 5 minutes into the game, setting the stage for tough competition. The Blondetourage fired back and was able to tie the game 13-13 by the end of the first quarter. NFL veterans Bobby Sewall and Dan Upperco were on hand to show their support for CaringKind and TackleAlz. The BruCrew worked creatively from the sidelines using pictures and logos to call their plays, and they were able to pull away from the Blondetourage with a score of 25-13 heading into the 4th quarter. It was a tense 4th quarter with both teams making additional gains, but ultimately the BruCrew were crowned the 2018 TackleAlz NYC champions, with a final score of 38-25. The day ended with the BruCrew holding the game trophy and the Blondetourage with the fundraising trophy.
In July we cheered on our Tri-Athletes who ran, biked, and swam in New York City to support CaringKind's programs and services. We thank them for their support.
Our NYC Marathon runners are off to a strong start! Weekly training began July 9th. Several of our runners have been caregivers for parents, grandparents and other relatives. They train and race in honor of those loved ones. There a still a few spots on the team so if you'd like to run with us, please email us at:
athletes@caringkindnyc.org.
Our athletes continue to shine a light on the impact of Alzheimer's demonstrating that all ages are affected this disease.