Demystifying connect2culture® Training

Meredith Wong,
Manager of Connect2culture®
---
How many times have you gone to a museum where the staff understands the urgency of finding an accessible bathroom or helps you find the galleries or cafe? Trained staff know that if these requests can be met, their visitors will appreciate and likely remember their experience. Connect2culture believes that the key to creating spaces and programs that you can enjoy is an approach to visitor services that goes beyond training just the program staff. It extends to the security guard who is friendly and patient, or front-of-house staff who helps you and the person with dementia navigate the bag check and metal detector or the volunteer who guides you to a place to sit.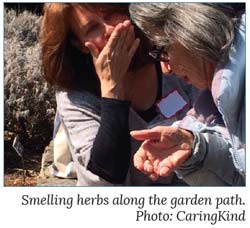 A connect2culture cultural partner organization participates in a training that is based on CaringKind's long established Understanding Dementia for Professionals presentation. It lays the ground work for understanding the disease's progression and teaches how cultural organizations can create a more inclusive and comfortable space. While the training encompasses information and practical skills for cultural environments, it also helps staff who are family caregivers by introducing them to communication skills they can use at home. In a recent connect2culture training with the Orpheus Chamber Orchestra, musicians and administrators found the information useful for performing in dementia care communities as well as in their own caregiving. While this training is similar to Understanding Dementia For Professionals, it is tailored to the specific logistical challenges of each cultural space. For example, while a space may echo with cavernous rooms filled with activity and noise, dimly lit galleries of another are filled with ambient music or rapidly moving video. How might these organizations accommodate the needs of someone with dementia? With very different spaces, resources and collections, each institution are asked to consider these elements carefully.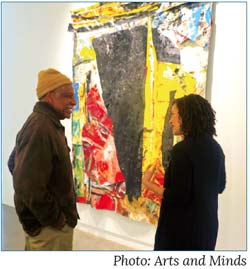 When an organization decides to create a program for people with dementia and their care partners, the next step is for their program staff and facilitators to participate in a more comprehensive educator training. This training builds on their understanding of the disease with engagement skills that will make the program enjoyable for participants and staff. Just as you learn to adjust the way you communicate and respond to the person in your care, the facilitator learns to do the same to create a positive experience of shared discovery and connection. It may be through integrating ceremonial musical instruments that you can play while looking at images of temples where they may have been used. What words describe the kind of sound it makes? Or might you be looking at and feeling a piece of a soldier's uniform, and wonder what the badges or medals mean? What materials are they made of? What identifies the uniform as an officer's?

Knowing that the disease affects each person differently, the facilitator focuses on the strengths of their program participants by integrating different opportunities for participants to connect through sensory memories, for example, singing a familiar naval tune like Anchors Aweigh while sitting on the deck of an aircraft carrier or feeling moist soil in your hands as you pot an herb at the botanic garden. If someone has lost their sense of smell or taste, then other senses allow them to access the experience.

As the pool of cultural partners grows to include botanic gardens, performance and visual arts organizations, and history museums, connect2culture hopes that through understanding the effects of dementia on the whole community – friends, neighbors, family – the sensitivity to their needs for sensory and social stimulation will grow.
Testimonials