Play to Remember: An Overnight Softball Game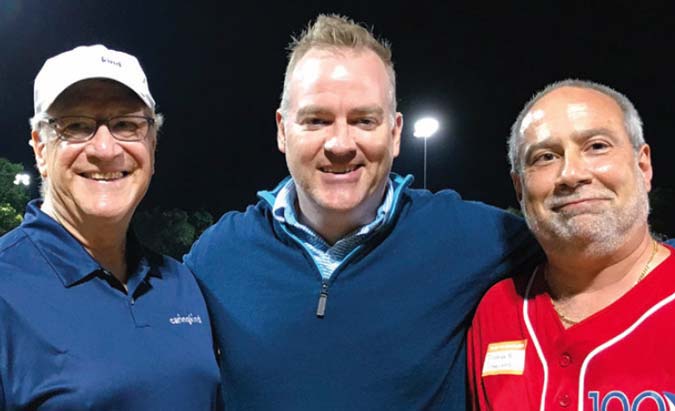 CaringKind President & CEO, Jed A. Levine; Mayor of Irvington, NY, Brian C. Smith, Hebrew Home at Riverdale's COO, David V. Pomeranz
In an effort to raise critical funds and awareness about the round-the-clock demands on Alzheimer's and dementia caregivers, Hebrew Home at Riverdale and CaringKind cosponsored an overnight, one-pitch, double-elimination co-ed softball tournament fundraiser held from 10:30 p.m. on June 22 until 6:00 a.m. on June 23. The timing was symbolic – the most difficult hours for those living with Alzheimer's disease or dementia and their caregivers take place during these hours.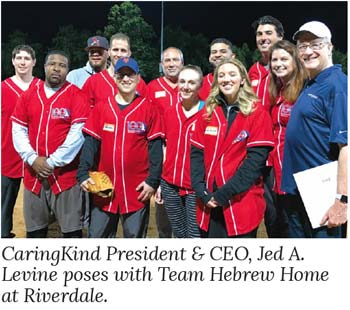 The tournament took place in Scenic Hudson Park in Irvington, NY. Approximately 100 players from eight different teams across Westchester competed that evening, and wore uniform patches participating to honor someone affected by Alzheimer's or dementia.


Joining the nearly 100 spectators was Brian Smith, Mayor of Irvington, who threw the first pitch. Other highlights of the event included a silent auction, raffles, assortment of food trucks, breakfast and a trophy presentation for players, celebrating the winning team, The Yellow Jackets. Thanks to the amazing effort of those involved, the event raised nearly $8,000 which was split between Hebrew Home at Riverdale and CaringKind.