Jed A. Levine
President & CEO
---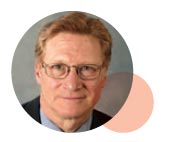 Dear Readers,
In 1990, George H.W. Bush was President. The cost of a postage stamp was 25 cents. The New York Yankees finished seventh in the American League East with a dismal record of 65 – 97. Best song of the year went to Bette Midler for "The Wind Beneath My Wings." The number of murders in New York City reached a record high. And I began my career as a staff member at CaringKind."
While a lot has changed in our nation and city, one thing remains a constant: Alzheimer's – a disease with no cure, no prevention and no disease modifying treatments – continues to take
an unprecedented toll on those who have the disease and their family caregivers.
In this, my inaugural column as the new President and CEO, I promise that something else will never change: the commitment of CaringKind to provide anyone facing a dementia diagnosis with the help and care they need, when they need it. The dedicated and compassionate Alzheimer's and dementia professionals who work here at 360 Lexington Avenue are wholeheartedly committed to CaringKind's core mission. They will continue to work tirelessly to create and deliver comprehensive and effective programs for any New Yorker who is affected by Alzheimer's or a related dementia.
Over these past nearly 30 years, I have heard time and time again how important it is for people in our community to have a place to come where they are really understood, and where they can get guidance to help them navigate a very frightening landscape.
In fact, I just spoke to a caregiver who told me that before she came to CaringKind, she was feeling very alone and fearful. She had no idea how to cope with her husband's unwanted and unanticipated diagnosis. The assistance and encouragement she received from our staff gave her the strength and the will to deal with her new reality. She said, "I know now that I am not alone." I never want to lose sight of this experience for the individuals and families who call us.
What sets CaringKind apart from any other organization is the vast number of unique programs and effective services we offer – and not just in Manhattan. The level of support we provide, our experience and depth of knowledge are simply unparalleled. We are New York's dementia experts, the central address for Alzheimer's and dementia care.
Serving New York City's diverse communities will remain central to our mission as well. Our outreach programs for African Americans, Latinos, Chinese and LGBTQ people are geared to address issues specific to each community, reflecting the cultural nuances and languages appropriate to each.
CaringKind will continue to take advantage of our location in the cultural capital of the world and partner with some of the City's premier arts and cultural institutions in our innovative program called connect2culture®. It's a resource for families who want – and need – programs that normalize their experiences and give them a chance to engage in the kind of activities they enjoyed before dementia took over their lives.
Finally, I want to thank Lou-Ellen Barkan for her outstanding, innovative and creative leadership over these past 14 years. So many of our advancements came directly from her brainstorming ideas. From our conference for chaplains and clergy, to our annual audiology conference and technology expos, each of her ideas has enhanced this organization and made it more responsive to those we serve. I am very glad that she has agreed to stay on and help with the continuity of leadership as I take on this larger role.
There is so much more to be done. Resting on our past success is not an option. And, moving forward, I hope I can rely on your support so that we can continue our critical work – bigger and better than ever.
Sincerely,


P.S. I hope to see you at one of our four Walks this fall! For more information, check out the back cover of this newsletter or visit www.caringkindnyc.org/walk.